New York-based design studio SOFTlab has recently completed The Nautilus, a new interactive, site-specific installation illuminating Manhattan's Seaport District waterfront. Commissioned by Lincoln and Atlantic Re:think, the work is made from 100 vertical poles that produce a rich sequence of sound and light when touched.
This unorthodox collaboration began earlier this year, as Lincoln prepared to release its new crossover, the 2019 Lincoln Nautilus. Rather than promote the vehicle through traditional means, Lincoln wanted to create something novel. It teamed with Atlantic Re:think, The Atlantic's in-house creative studio, on an ambitious undertaking that reflects its human-centered design ethos: producing an interactive public work of art. They found a like-minded artistic collaborator in SOFTlab, which, under Szivos's leadership, previously created installations with LEDs and mirrors that react to viewers' movements and sounds in real time.
The installation is inspired by Lincoln's new crossover vehicle, the 2019 Lincoln Nautilus. The Nautilus represents the idea that the vehicle puts the driver in control by monitoring the environment in ways outside of the spectrum of what we see and sense. While the field of poles gives the installation an environment for people to explore and walk through, it is also evocative of the constellation of idiosyncratic events the Lincoln Nautilus measures and analyzes.
While this environmental intelligence greatly improves safety, SOFTlab chose to design and installation that focuses on how these sensors also provide a fun and enjoyable experience. The installation acts as a touch interactive environment that allows people to come together to produce an unexpected symphony of light and sound.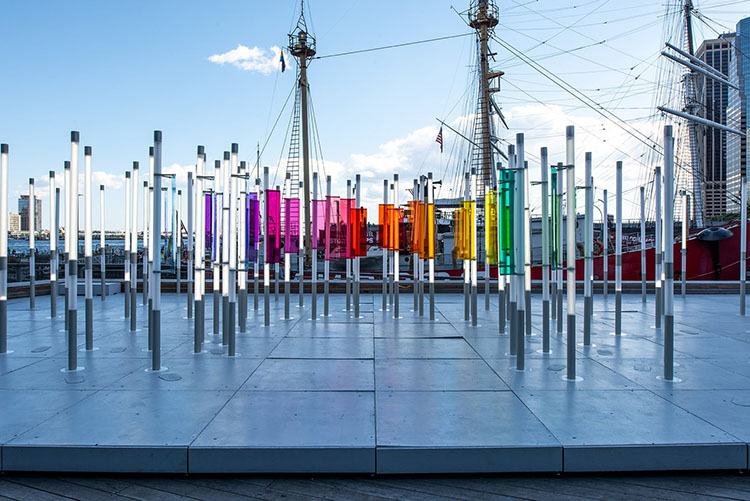 As a person touches the middle portion of a pole it activates a tone based on metrics of their touch. As that tone is played, lights in the surrounding poles react with a pulse emanating from that pole.  When multiple people activate poles the installation plays them in sequence. The installation acts as a large network, reacting to various inputs from the people and the environment much like the Lincoln Nautilus.
At the center of the installation is a circular area surrounded by a spectrum of acrylic panels for people to few the surrounding activity through various colored lenses. This second experience is evocative of how the vehicle augments and visualizes activity in the environment that we can't normally see.
The Nautilus will be on view at Pier 17 in New York City's Seaport District until September 10, 2019.