Sydney's century old wharf in iconic Woolloomooloo is now home to Sydney's hottest new hotel, Ovolo Woolloomooloo, following a bold transformation designed by Melbourne-based practice Hassell to appeal to a new generation of travellers.
After the success of Ovolo Laneways hotel in Melbourne, HASSELL once again partnered with Ovolo's Hong Kong-based operators to realise its vision and help bring the energetic lifestyle brand to life for its latest Australian venture.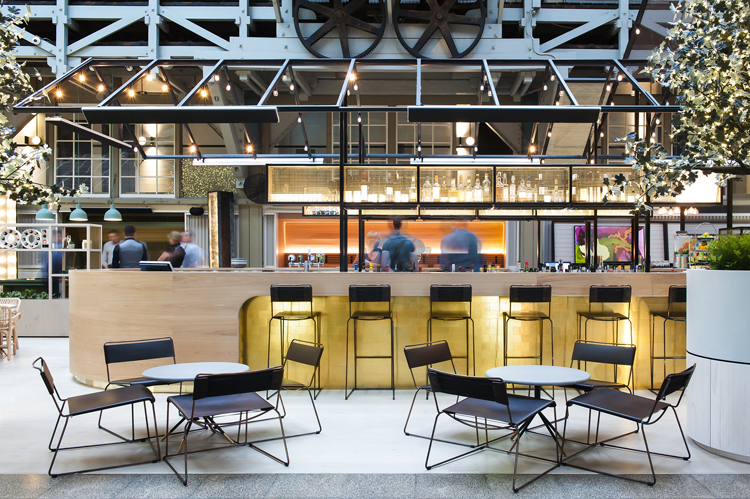 Ovolo represents a collection of hotels that connect people with their locations, and combine their personality with the character of the immediate environment. In this case, it's the century old Finger Wharf at Woolloomooloo, close to Sydney's city centre.
Ovolo Woolloomooloo creates a missing link within its broader precinct giving people reasons to visit – and return.
"Buzzing bars and restaurants and emerging retail options are great for local residents and hotel guests alike, and anchor the hotel within its surrounds, while inside, the welcoming public spaces and fresh colour scheme contrast with the deliberately atmospheric guest rooms, building drama and interest," said HASSELL senior associate Matthew Sheargold.
The rooms are truly unique, boasting generous in-room inclusions, custom lighting and locally commissioned artworks. Matthew says today's hotel guests expect to seamlessly switch between work, rest and play – and Ovolo responds with the right mix of technology and amenities.
"We've drawn on our expertise in workplace and hospitality design to make Ovolo the Australian benchmark in meeting the needs of a new generation of guests who want to work flexibly across a wide range of settings within the hotel," Matthew said. "To give people the opportunity to switch off when they need, we've provided ample settings for them to gather and connect with each other. The revived space is very Sydney, and very Ovolo, and a welcome new international destination for travellers."
al images © Nicole England