The installation of Gerry Judah's new monumental sculpture 'The Scroll' in Sharjah, UAE, marks the start of a year of celebrations as the Emirate becomes the UNESCO World Book Capital for 2019. This landmark sculpture stands close to Sharjah University City and Sharjah International Airport, at the front of the House of Wisdom, designed by Foster + Partners to be completed in 2020.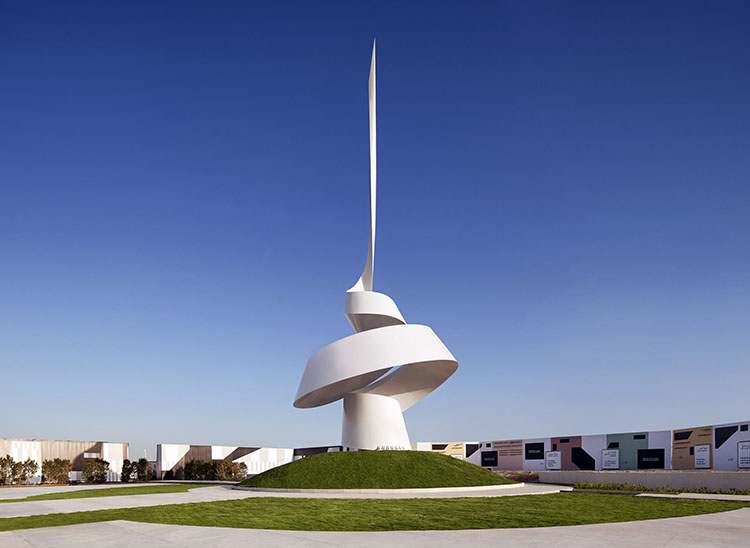 The Scroll is a contemporary interpretation of the ancient Arabic scrolls – a single, spiralling sculpture that loops towards the sky. The design and inspiration are representative of a celebration of reading and the power of books to unite people, central to the purpose of the House of Wisdom and that of the UNESCO World Book Capital initiative.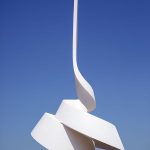 The Scroll stands at thirty-six meters high (120 feet) and is a true spiral with no connection between the loops as they pass each other. At points, there is no more than 150 mm (six inches) between the loops. The structure itself is extremely light and extremely stiff, so as to counterbalance the desert winds, and was achieved by a technique of monocoque construction developed by Gerry Judah and his engineers Diales.
The minimalist lines of the House of Wisdom, designed by Foster + Partners, will be a striking contrast to the curving lines of the monument.
"Gerry's sculpture is a perfect complement to the minimalist geometry of our building. We look forward to the building's completion, which will give the local communities and scholars a new space for shared learning and innovative research, set within a beautiful landscape," says Gerard Eveden, Head of Studio, Foster + Partners
The UNESCO World Book Capital status is conferred on a new recipient each year. The Emirate of Sharjah's objective is to foster a culture of reading in the United Arab Emirates and inspire new initiatives to meet the challenge of literary creation in the area. Reinterpreting the library as a social platform for learning supported by innovation and technology, the House of Wisdom represents a new moment for Sharjah as an international cultural capital.