Well known as minimalism lovers, Polish design firm Thisispaper has opened its first flagship store in Warsaw, Poland. The simple and quiet interior came out of transformation of the dental clinic of the soviet era to the Thisispaper Shop and Studio where you can buy Thisispaper products, polish books and taste high quality Japanese tea.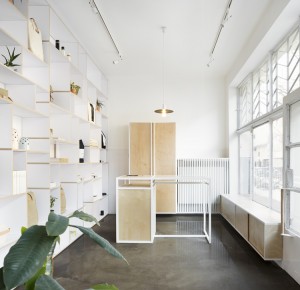 The Shop is located just next to the studio with the characteristic grey entrance and windows open onto the street. The transparent resin floor gives the space a raw feeling whereas, in the contrast, the birch plywood not only warms up the interior but also gently helps keeping the gadgets for tea tasting. The birch finishing cleverly uses the space under window sills just to store the products.
The main element of the interior is the lyv regal extending over the entire back wall. It's been designed and made in collaboration with bespoke design furniture company Tylko. Consisting of three shelves, it's all clamped together without any additional fixing. Undeniably the regal is the dominant part of the interior but giving the fact it's finished with white plywood, it simply perfectly blends into the space.
"We didn't want to lose ourselves in a completely new project, that is why we decided to leave the residue of the paneling in this interior as a kind of reminiscence of the previous surrounding" explains Thisispaper Studio. "Last but not least, we managed to complete the Dieter Ram's Braun Audio 1 Stereo which fills the interior with sounds and enables the customers to listen to our selected vinyls."
all images © Maja Wirkus