A long-haul flight can be daunting. The thought of spending 20 hours on an airplane can fill even the most seasoned flyer with dread. But, it's all worth it when you land in your chosen destination. As soon as your toes sink into soft sand and the sun is beating down on your back, the flight will be forgotten. 
So, don't be put off booking those flights to Australia because it's easy to survive it if you follow these top tips: 
Tip 1: Choose your flights carefully

 
When booking your flights, it's worth being tactical about the time you take off. The middle of the night is not ideal as your body clock is already going to be messed up. An evening flight is better as you can settle in and get some sleep straight away. Alternatively, aim for mid-morning, so you get up at a reasonable time to start your day. Of course, if you have the budget, you may wish to consider chartering your own private flight through a company like Jettly, that way you will be able to decide exactly when you fly, and enjoy the comfort and luxury of a private aircraft.
Tip 2: …and your seats

 
Make sure you choose your seat as soon as you can so you can pick a good one. An aisle seat is best if you want to be able to move around the plane without climbing over someone. If you are traveling as a two, sit in a row of four rather than three, so no one climbs over you either. Likewise, an exit row will give you more legroom. 
Tip 3: Pack entertainment…

 
You're likely to have hundreds of TV shows and movies at your fingertips – including new releases. But, you might not want to be watching the small screen the whole time. So, pack a book or Kindle, download some podcasts, audiobooks and your favorite songs on your phone with headphones and a portable charger as well as some games. This is particularly important if you are traveling with children.  
Tip 4: …and food

 
You want to be able to eat when you are hungry and not just when food is served to you. So make sure you pack some snacks. Cereal bars or nuts and dried fruit are perfect. 
Tip 5: Drink plenty of water

 
You can quickly feel dehydrated on an airplane. On a flight from London to Sydney, you can actually lose around four litres of water from your body. This is why it's so important to make sure you drink plenty of water – it's best to buy a big bottle so you always have it to hand and choose this over alcohol, fizzy drinks or coffee when you are offered.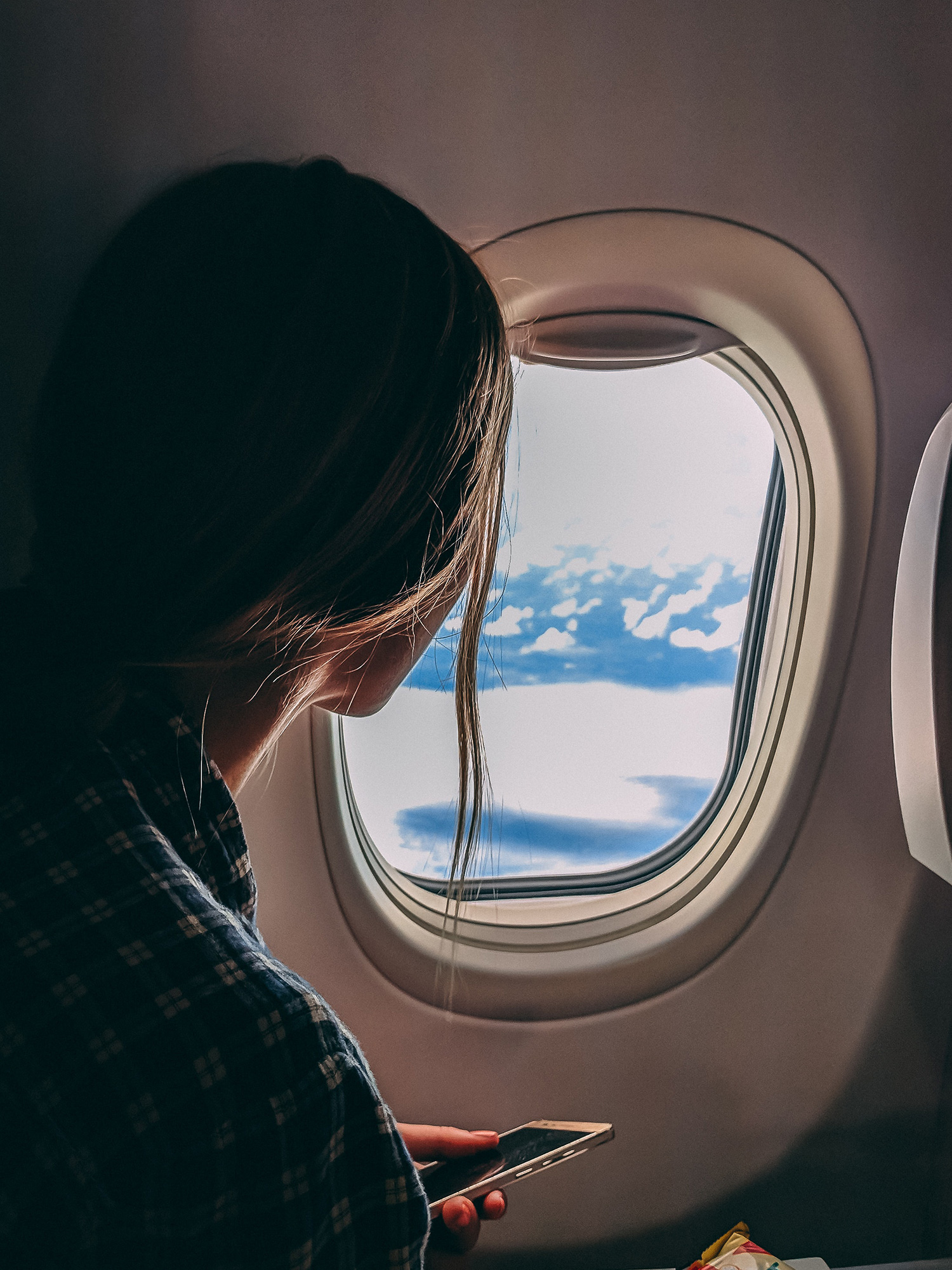 Tip 6: Wear comfortable clothes

 
There is nothing worse than feeling uncomfortable because of your clothes, even on a short flight. So forget the jeans and wear jogging bottoms. You might want to remove your shoes as your feet tend to swell, so make sure you have a warm pair of socks to pop on. It can also get cold, so layer a cozy jumper or cardigan over a t-shirt. 
Tip 7: Stretch your legs

 
Make sure you get up and walk around the plane. This should be every few hours and not just when you need the toilet. A short walk through the cabin enables you to escape the confines of your seat for a few minutes and will prevent deep vein thrombosis. 
Tip 8: Freshen up

 
You'll be surprised how much better you feel by simply freshening up. A face mask, a small tube of toothpaste and toothbrush, moisturizer, deodorant, face wipes, and hand sanitizer – will all help you to feel more human during the flight. Just make sure it is all under 100ml, so you can take it on the plane in your carry-on luggage. 
Tip 9: Try to sleep

 
Travelling can really mess with your body clock especially because of the time difference when you arrive. So, try to get some sleep. Pack an eye mask, earplugs, a neck pillow, blanket – everything and anything that will make it as comfortable and easy as possible to get some sleep. 
Tip 10: Consider a long layover or a stopover

 
You can ensure you have a short layover but you'll be rushing from flight to flight. As much as you want to get to your destination, a longer layover which actually allows you to stretch your legs, have something to eat or even get some sleep. Alternatively – and if time allows – why not arrange to stay in a destination on the way for a few days. You get to visit another country while you are on the other side of the world and can break up the flight.