Torafuku Modern Asian Eatery is a 48 seat restaurant in Vancouver, Canada opened by chefs Clement Chan and Steve Kuan, partners in acclaimed local food truck Le Tigre.  The menu is an expansion of their pan-Asian interpretations of traditional dishes with innovative combinations of locally sourced seasonal ingredients, sustainable seafood and organic meats which they have been serving from their truck on the streets of Vancouver.
The restaurant is situated on the edge of Chinatown in the ground floor of a small, dual fronting building dating from 1901. The centrally located Main Street location will function both as a food truck commissary and restaurant.
Local firm Scott & Scott Architects designed the space using materials that are used primarily for their utility, left in their raw state or finished in a manner of basic construction standard; balancing the strength of utility borne materials with a desire for the public elements to wear-in with use taking on familiarity and comfort over time.
The as-cast concrete communal table and kitchen viewing bar were designed as durable elements around which the space is structured. The benches, tables, linear pendant lighting and hardware were produced by the architect's studio for the project using range grade harness leather, canvas trucking tarpaulin and red oxide shop primer painted metal work.
To create greater conversational intimacy quilted cargo pad and denim cotton wool absorption panels are positioned to tune the space's acoustics. These panels are situated where smaller groups would be seated at the periphery of the dining space complimenting the softer leather and tarpaulin seating and in contrast with the more lively central communal table.
The restaurant was considered as an open room where the construction and food production are visibly celebrated and a part of the experience. The informality of bringing culinary quality to the streets from a truck with a warm and light hearted attitude was central to the design of the space and the consideration of the detailing.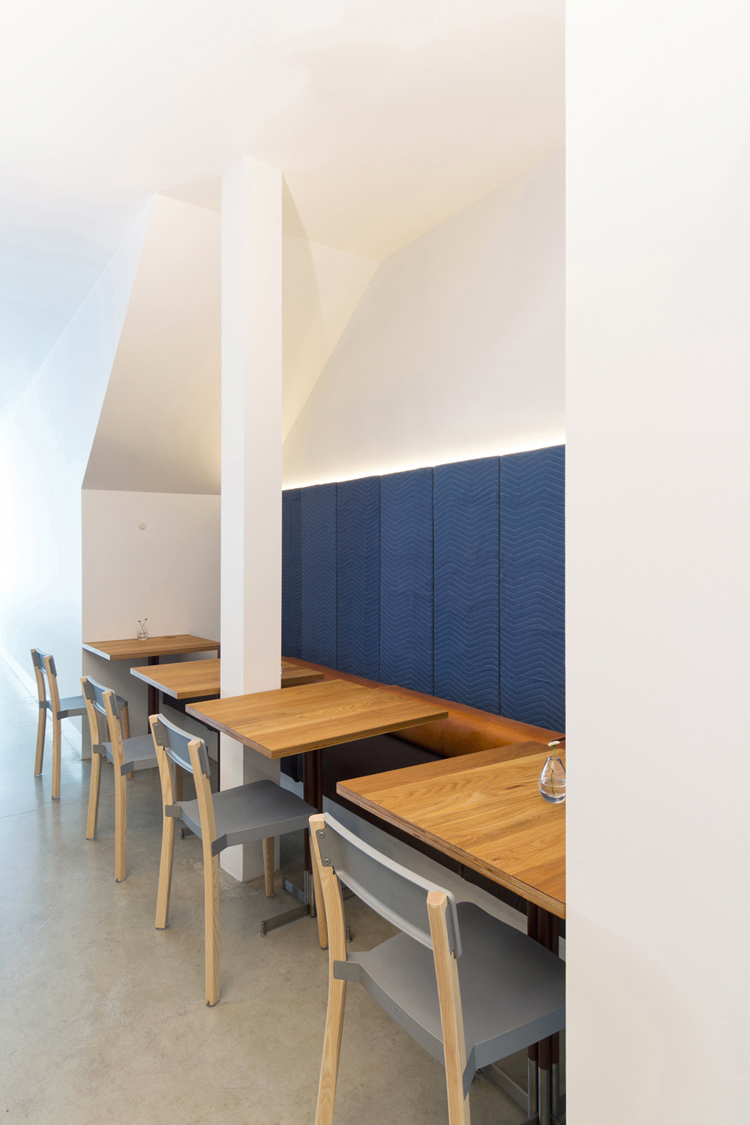 all images courtesy of Scott & Scott Architects