With the desire to downsize and live more simply, a couple has commissioned Sydney-based architecture studio Trias to design their dream home in Newcastle. The site is defined by a distinctive wedge shape, with close neighbors on two sides. A further challenge came in the form of a flood control, which required the building to be raised 1.5m above ground. Alternatively installing a sump pump could have done the job.
In contrast to a conventional architectural response – which might lift the house up on stilts – Three Piece House is placed on a solid brick base. This elevates the building above the flood plain and lends it an unexpected feeling of heft and permanence. The resulting place feels anchored, despite being battered by coastal weather.
This design approach was inspired by Jørn Utzon's text, 'Platforms and Plateaus,' and the architect's courtyard houses. Three Piece House appropriates this strategy for an Australian setting, using brick platforms to mediate between house and ground.
Three Piece House uses the full extent of its site, encouraging life to take place within, between and beyond the building. Courtyards and gardens ramble between the pavilions, which are unified by their brick base. The scale of this platform is further broken down by brick steps, seating edges and planter beds, which will soon be lush with native plants.
Moving inside, the architectural arrangement is simple yet dynamic. The main house is composed of two pavilions – one for the living, and one for sleeping. A reading corridor, which bridges between, faces out to the garden and, in winter, is bathed in northern sun. The brick paving continues through this space, unifying inside and out.
The studio, meanwhile, sits as a discrete, and yet related, volume in the garden. It provides accommodation for visiting friends, family and guests. Throughout Three Piece House, the rooms maintain a compact footprint that is balanced by generous ceilings and carefully cropped openings.
Walking around the house, the spaces reveal themselves slowly, via constantly shifting views and vignettes. The two main courtyards have distinctive characters: one is extroverted and public, the other introverted and private. The southern porch, which faces the river, is a space for neighborly chats and watching street life go by. The northern courtyard, meanwhile, is a sheltered space for retreat and family gatherings. It is shaded overhead by deciduous vines, providing a simple and time-honored approach to passive heating and cooling.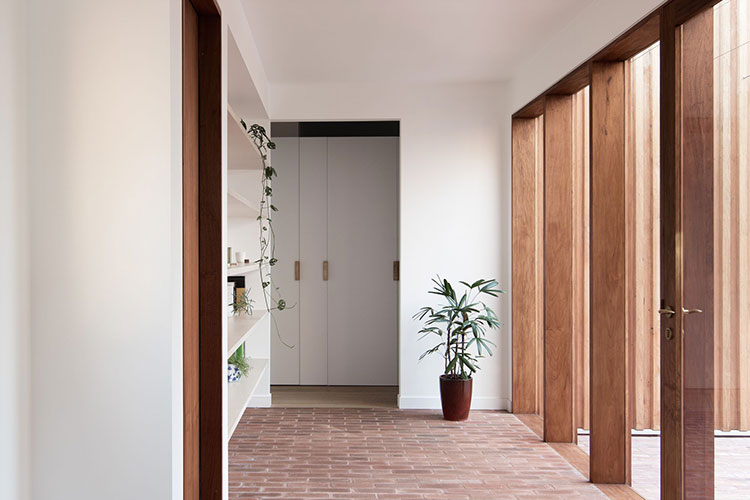 The materiality of Three Piece House is robust and resilient, as befits a windswept, coastal site. The textures and tones of the house are raw and rugged and have been deliberately chosen to become more beautiful as they age. The skillion forms are clad in a radially-sawn Silvertop Ash, which will grey over time. This resource-conscious product uses felled timber as efficiently as possible, minimizing wastage and celebrating the timber's rough grain.
The solid masonry base, meanwhile, is rendered in earthen-red tones that are color-matched to the recycled brick paving and the rusted reds of passing ships. The bricks reappear throughout the interior, emerging as an anchored island bench and a fireplace hearth.
The platform is built from recycled bricks that were sourced on-site. These were repurposed from the old house, a dilapidated 1940's bungalow that the studio dismantled with their client. Elsewhere, the house pursues principles of sustainability. It employs cross and stack ventilation, thermal mass, water collection, and eroded eaves, which provide shade. The house can be tweaked and adjusted to suit the prevailing season and weather.
In summer, the house is cooled by ocean breezes, and the courtyard will be covered by deciduous vines. In winter, a fireplace warms the living pavilion, while the brick corridor soaks up sun. The home also implements solar panels and battery storage, which supply the home with most of its energy needs.
The interior spaces are large, open volumes that maintain a human scale. Corner openings peel back to reveal greenery and views, while high windows exhale air and offer slivers of sun and sky. These openings allow light to creep across walls and floors in animated paths – a daily testament to time passing. Elsewhere, the house embraces the prosaic beauty of its suburb, framing views of the river and neighboring streets.
Across this project, the budget is spent thoughtfully, focusing on details that improve the client's daily life: a series of pendant lights suspended in corners, touches of brass for tactility, and a tiled bench for washing in old age. This house is defined by a spirit of 'less but better,' with every decision a careful negotiation of longevity and value. Three Piece House is a dynamic and distinctive piece of architecture, that is at once crafted and unpretentious. It is a testament to small living in suburbia.