To celebrate its 20th anniversary, Urwerk has unveiled its new creation, the UR-105 CT Streamliner. Its unique shape is a remarkable octagon with deep grooves along its length. The Art Deco influences are apparent in its geometric angularity and symmetry. As Martin Frei — co- founder and chief designer — explains, "the Streamliner has a minimalist design with few frills and clean lines. In the initial drawings, I thought of the Empire State, the Chrysler, and the Comcast buildings. That is why it has that vertical structure that seems to go on forever."
You have to slide the catch on the top of the case to reveal the mechanism of the UR-105 CT. It's a new wandering hour indication based on an open work carousel, which carries the four satellites, each bearing three numerals for the hours. The hours successively sweep past the minutes scale for an analogue and digital display of the time.
According to co-founder and master watchmaker Felix Baumgartner, Streamliner is an apt name for this watch. "The UR-105 CT is a watch with a flexible design. When it is closed, it looks austere, with only the time indication visible. Open the protective cover and you delve into a metallic environment that is quite cold, yet you perceive a notion of speed and an effort at efficiency. The Streamliner's carousel has been completely redesigned, becoming lighter, stronger and far more effective."
A power-reserve indicator and digital seconds make up the rest of the information displayed on the dial. The digital seconds are remarkable in that they indicate tens of seconds. The mechanism was made using a photolithographic process, with each marker openworked to make it as light as possible. It thus weighs less than a tenth of a gram.
Two pneumatic turbines on the back govern the self-winding rate, which can be set with a lever. In the FULL position, the slightest movement of the wrist is harnessed to rewind the barrel spring. Turn the lever to STOP to disengage the self-winding system and wind up the UR-105 using the crown. An intermediate position, RED (for reduced) engages the turbines to dampen the winding rotor and avoid overstressing the mainspring if you are particularly active.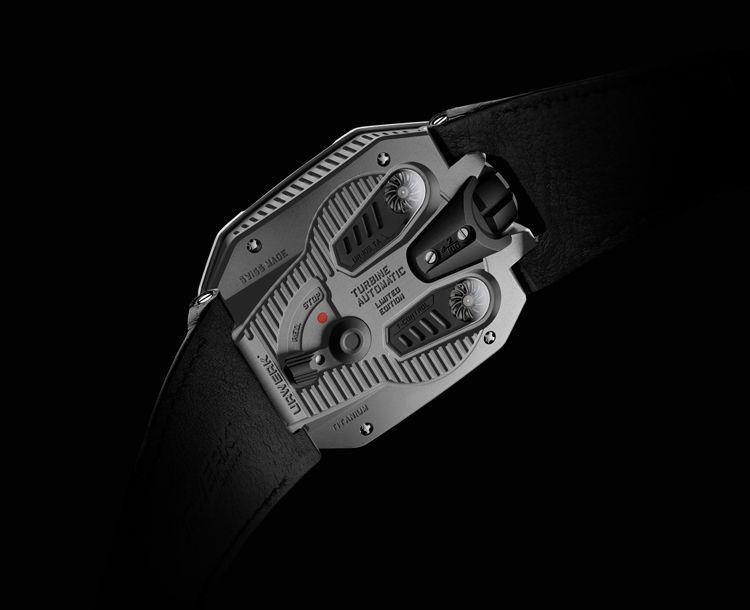 In the Streamliner, Felix Baumgartner and Martin Frei take you to the New York of their youth, a plunge into a city of different facets, from the top of the highest skyscraper to the depths of the subway.
The Streamliner comes in two versions: Titanium and mirror-polished steel ($ 68000 USD / tax not included), or Titanium and black PVD coated steel ($ 68000 USD / tax not included).
all images and video courtesy of Urwerk