Vintage Electric is known for designing high-performance electric bikes that perfectly pair bygone-era aesthetic with state-of-the-art technology
. Now, ahead of the major motion picture release documenting one of the greatest racing victories of all time in Ford v Ferrari, Vintage Electric is excited to present the all-new 48-volt Shelby throttle bike. Inspired by Carroll Shelby's personal metallic blue 289 Slabside,
Vintage Electric partnered with Carroll Shelby International to craft a two-wheel hot rod that celebrates the iconic race car that started it all, the Cobra.
"To channel Carroll Shelby's spirit of design, you have to be in the presence of the phenomenal vehicles that he created. Walking around these celebrated Shelby cars, touching them, driving them, and seeing every last detail that Carroll poured into them is truly where our inspiration came from in making the new Shelby bike," comments Vintage Electric Founder/Lead Designer Andrew Davidge. "When you walk up to a Cobra, this first thing you notice is the timeless aesthetic that has been celebrated for generations. The Cobra is an American icon, and we wanted to express that in our newest Vintage Electric Shelby bike." 
As part of the bike's development process, Vintage Electric also met with Aaron Shelby, Carroll's grandson and closely researched one of the racing legend's very first personal 289 Slabside cars. Alongside driving the Cobra, Vintage Electric also took great care in incorporating the smallest details and classic finishes into the new bike's overall design. The new Vintage Electric Shelby is outfitted in the exact matching blue metallic N6 paint scheme as Carroll's own 289 Cobra with matte black racing stripes and iconic Shelby logo alongside distinctive Cobra badging.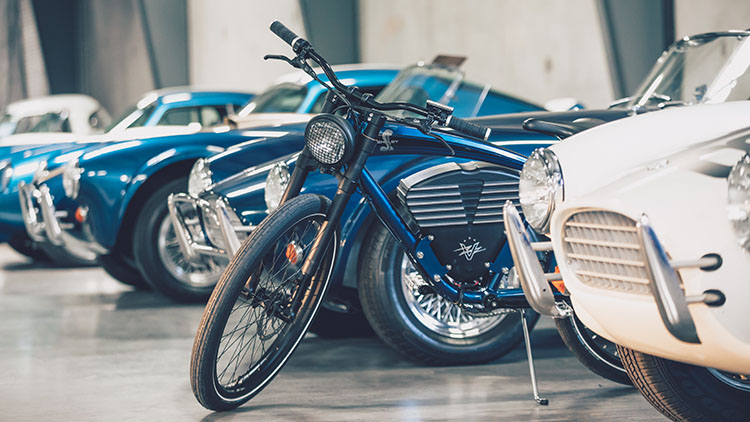 To further express the classic Slabside aesthetic, Vintage Electric crafted the rugged handle grips and saddle seat to perfectly mirror the interior design of Carroll's original blue 289. In fit and finish as well as color, tires, wheels, and brakes, every facet of the new bike echoes the legendary Cobra car it was modeled after. The black striping and metallic blue are tastefully accented with tones of silver throughout to make sure that the new Shelby bike immediately makes an impression out on the road.
Above all, the Cobra is known for its visceral, aggressive performance. Vintage Electric kept that in mind by integrating the most powerful battery pack the company has ever used for the new Shelby bike. The newest Vintage Electric throttle bike features a massive 48-volt battery along with a muscular 1,123-watt battery cell. The more powerful amerpage allows Vintage Electric Shelby bike riders quicker off the line speed and torquey performance on road. The large battery is housed in a stunningly crafted matte black cast-aluminum housing that briskly charges in a speedy 4.5 hours.
In another nod to classic Shelby race cars, the new high-performance Vintage Electric Shelby bike features a specially tuned 'Race' mode that is capable of speeds up to 36 mph on private-property/closed-courses. To unlock the full performance of the 'Race' mode, Vintage Electric Shelby riders must take out a specially designed speed key that is installed in every battery pack.
After a full charge, the Vintage Electric Shelby reliably offers up to a 75-mile range. The new bike features a high quality hydroformed aluminum frame made for striking the perfect balance out on the road with an MRP inverted-fork system. The front suspension supplies 60mm of front wheel travel. The Vintage Electric Shelby also integrates a stately LED headlamp and rear taillights that not only illuminate the open road for riders but recaptures the celebrated American spirit of race cars.
"As a company, Vintage Electric is really trying to blur the lines between an electric bicycle and electric motorcycle," continues Vintage Electric Founder/Lead Designer Andrew Davidge. "For this new Shelby bike, our company is taking a platform that is relatively simple in theory, and we're applying a very Shelby formula to every detail, which means we're adding significant amounts of power and performance while giving this new Shelby bike an incredibly unique, one of a kind Cobra look."
Pairing classic aesthetic with the best in modern technology, the Vintage Electric Shelby bike features groundbreaking EV technology. The sleek electronic interface on the handlebar is clear and intuitive, allowing riders of all levels easy, on-demand acceleration at the simple push of a button. Alternately, the thumb-throttle provides convenient access to five extremely smooth power modes. Speed ranges from a steady ramp to a powerful launch for riders looking to go full throttle. Another helpful feature on the Vintage Electric bike is the rear regenerative disc brake, which provides incredible stopping power while also recharging battery power.