In collaboration with Virgil Abloh, Vitra has unveiled the installationcTWENTYTHIRTYFIVE at the Zaha Hadid-designed fire station at the Vitra Campus. At the same time, three products developed by the American architect, artist and designer will be launched in a limited edition as an exhibition spin-off. The latest collaboration by Vitra continues a long series of experimental projects undertaken with designers, architects, and artists — resulting in exhibitions, installations or special editions that reach an audience with a keen interest in both social issues and design topics.
Virgil Abloh is known for pushing boundaries. The 38-year-old architect, DJ, engineer, university lecturer, artist, entrepreneur, and artistic director at Louis Vuitton has captivated an entire generation with his challenging methods of thinking and working. He uses his creativity to communicate socio-political messages and manages to lure us onto unfamiliar terrain with ideas that are often comprehended only in retrospect.
As a child of Ghanaian immigrants who was raised in a Chicago suburb, Virgil Abloh succeeds in designing luxury fashion while simultaneously raising questions about its legitimacy. He scrutinizes existing regulations and hierarchies, frames of reference and modes of interpretation. Any kind of collective cultural heritage that falls into his hands — whether Renaissance painting or sneakers, Rem Koolhaas or Kim Kardashian — is 'sampled' or 'hacked', quoted or reinterpreted, optimized or altered, and thereby communicated to a new generation that increasingly looks to social media for information and inspiration.
"To me, design has the inherent idea of being a bridge from the past, with an eye towards the future," explains Abloh, who was fascinated by the designs of Jean Prouvé and had an interest in exploring the Frenchman's work from the outset of his cooperation with Vitra.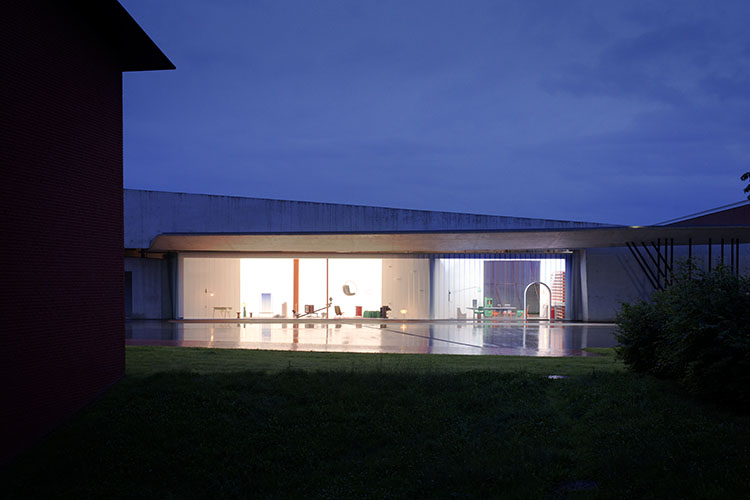 "His aim is to share knowledge with others. He does this in a way that is easily understood, appealing and highly accessible," says Nora Fehlbaum, Vitra CEO. Her motivation for the collaboration was Abloh's open approach to on and furniture classics, which enables him to shift the related discourse away from an elite circle towards a younger audience and to generate new excitement.
After the initial discussions, it was clear that this joint project would be targeted towards the emerging generation. According to Virgil Abloh, this generation is interested in a wide range of topics and does not regard art, architecture, music and fashion as separate disciplines, but finds pleasure in linking them together. Eckart Maise, Chief Design Officer at Vitra, also felt that the design of an object by Virgil Abloh should be preceded by a conceptual discourse.
The result of this discourse is the installation TWENTYTHlRTYHVE, which will be shown until the end of July in Zaha Hadid's Fire Station on the Vitra Campus before traveling in autumn to the newly opened Vitra showroom in New York. At the focus of this artistic intervention by Virgil Abloh is the interaction between an adolescent and his home surroundings. On one hand, it looks at how the evolution of technology and changes in society might affect our homes, touching on such themes as sustainability by means of recycling, dematerialization, and overabundance — or as Abloh suggests: "It's arguable whether we will even have a need for furniture by 2035."
On the other hand, it addresses the degree to which our environment influences our life path, our tastes and the decisions we make over time. Drawing on this idea, Virgil Abloh has created a very personal 'residential biography' of a fictitious teenager from the year 2019, accompanying him into the year 2035. The first section of the installation is titled 'Past/Present' and portrays a seemingly arbitrary collection of furniture and other items, resembling a condensed assemblage of memories. It consists of physical objects, colors, and materials, which are viewed through a filter that creates the atmosphere of a dream sequence. In this manner, the scene shows the diverse influences that take root in the long-term memory of our teenager, and thus have a potential effect on his life at later points in time.
The displayed objects, from the Petite Potence lamp and Antony armchair by Jean Prouvé to designs by Charles and Ray Eames or Eero Aarnio, some in their original form, others creatively altered — might have come from the parents' household furnishings, but could also have been collected from a playground, a classroom or a friend's apartment.
The second section, 'Tomorrow', looks ahead to the year 2035, just beyond the temporal horizon that we can currently envision, as Eckart Maise explains — and shows the first own home of our now adult protagonist. The teenager has become a creative "doer" who transforms his memories and experiences, all of the cultural and social influences, into his own products, thereby finding a personal field of activity', says Nora Fehlbaum. Important in this context are not only answers to the challenges of the future but also bridges to the past, which are constructed by work methods for adopting, hacking and quoting familiar objects.
The dèjá vu effect of this 2035 studio, which serves as a space for both living and working, generates a sense of trust and creates a firm ground upon which to stand in an era marked by disruptive developments. The futuristic living environment includes three spin-off products that were developed in conjunction with the exhibition and will be available for purchase at the Vitra Campus, and also sold online in Europe as limited editions at vitra.com. Products derived from this collaboration will go on sale in the American market in the autumn.