Every August classic car fans from around the world converge on Pebble Beach in California for a very special beauty contest. This gathering of magnificent classic cars is the stage to premiere the exclusive Vision Mercedes-Maybach 6, a sensational luxury-class coupé. The 2+2‑s eater is a homage to the glorious age of the aero coupés and consciously carries this tradition forward into the future. The coupé reinterprets classic, emotional design principles in an extreme way, following the Mercedes design philosophy of sensual purity.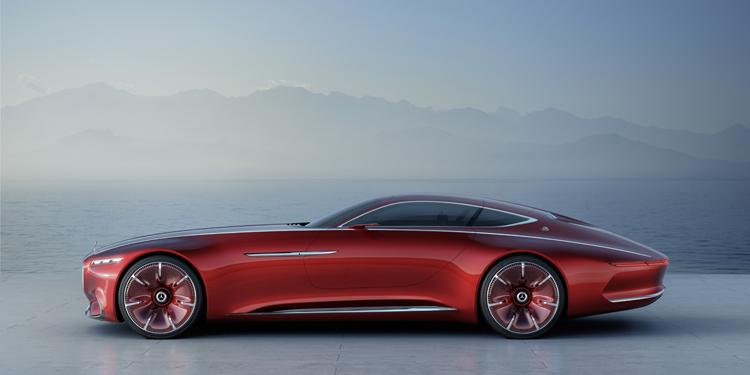 The Vision Mercedes-Maybach 6, which measures almost six metres in length, is designed as an electric car. Mercedes-Benz fitted the concept with an electric drivetrain with 738 HP and a range of over 200 miles, provided by an 80 kW lithium-ion battery mounted beneath the car's floor and four compact motors driving each wheel. Those should take the car running on gigantic 24-inch rims, from a standstill to 62 mph in approximately 4 seconds. The concept car should hit an electronically limited top speed of 155 mph.
Vision Mercedes-Maybach 6 represents the ultimate in luxury. The classic aesthetic proportions of the show car – the extremely long bonnet, the low roof line and the rearward positioning of the greenhouse – recall the aero coupés of days gone by. But this is not retro design – this is a reinterpretation of classic, aesthetic principles.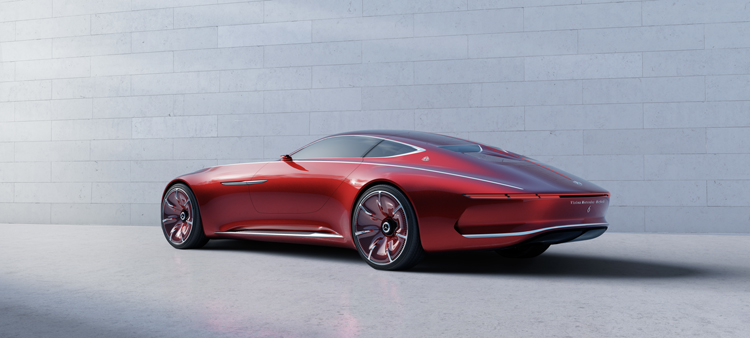 At the same time the design is something unexpectedly new – cool, technoid and reduced. This is exemplified by the aerodynamically intelligent basic shape. Even without aids such as spoilers, the airflow hugs the contours of the vehicle body and only breaks away very late at the tail end of the vehicle. Then there is the surprisingly technoid character of the narrow lights, the partially transparent rims and the split rear window.
The media was not allowed to elevate the gullwing doors of the Maybach coupe at the event, yet the official sketches show a high-tech lounge-like interior, that envelopes passengers in illuminated bands of continuous glass trim. The windshield acts as a transparent display, on which relevant data can be projected.
The information can react to gesture control. Furthermore, the body sensors monitor the passengers' vital functions and decide whether to offer warm or cool seats or even massage. The sensors also determine the color of the occupants' clothes and trigger "emotional lighting effect" accordingly.
all images courtesy of Daimler AG