Inspired by sound wave phenomenon, interior and spatial design Studio Roomoo has created the interior for the Whatever Eyewear store in Kerry Center of Nanjing West Road, Shanghai. For the first shop of this new fashion sunglasses brand – the designers wanted to find a representation way to match its spatial visual image on the basis of respecting the existing product elements and brand charm.
Inspired by the specific details of Whatever Eyewear logo and product themselves, rotating installation in the center is designed to present the visual image formed by the sound vibration of vocalized words "Whatever" and "Attitude", which is the main display area as well. Each sheet structure using punching aluminum plate meets the detailed pattern carving requirements while reducing the overall structural weight. The sheet structure of the hollowed-out arrow pattern and the central tube structure of the hollowed-out bullet pattern are assembled together to shape a semi-transparent and relatively lightweight Soundtrack Installation.
The lighting setting of the central tube structure and the three-layers transparent acrylic display boards can maximize the details of the product different angles. The overall installation shape is divided into upper and lower parts by a central handle, which echoes the Whatever brand's logo pattern and provides a sense of vision at a distance that disturbs the spatial order. In the meanwhile, the rotating structure also can provide various needs of scene display by fixed rotating bearings in the ceiling.
Other areas highlight the product with clean and concise visual representation, using directional arrow patterns to continue the expression of central and structural direction. The stainless steel display area and the red-gray triangular punching plate constitute the main color tone of the space, reinforcing the brand color. And its vertical and horizontal segmentation unifies the overall environmental modulus through the extension to the ground and ceiling.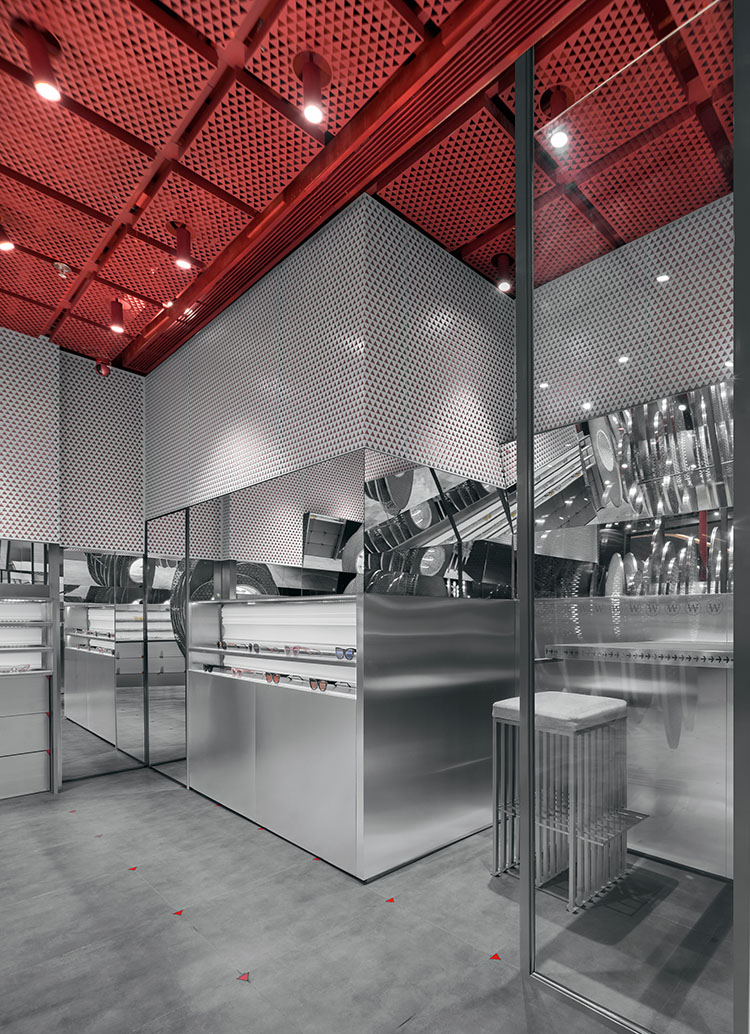 Mirrors are distributed vertically, horizontally and obliquely at a 15 degrees angle in space to meet the needs of multi-latitude guests to try products. In addition, considering the installation height of the main mirror area, the product display area with the height below the normal horizontal level is reserved. What is more, the visual center area is left blank as a mirror, which betters the experience of wearing.