In modern design, many people are tired of empty, monotonous minimalist spaces. They are starting to complement them with vintage things for greater expressiveness and uniqueness. Let's have a look at why the restoration of old furniture is now in trend, how to choose furniture for restoration and restore them properly.
Why Furniture Restoration Is Now in Trend
It is possible to single out several reasons for popularizing this area. The main thing is to save the planet's resources. People buy used furniture and textile and order cleaning services like carpet cleaning Spokane to minimize the production of new items. Another is emotional and visual value. The last, no less important one is the desire to be special. Interior designers are more likely to integrate the restored furniture into their projects to support the theme of recycling and upcycling.
For the first reason, everything is very simple: the less you buy new things — the more resources remain intact. Modern society does not want to live in an ecological catastrophe, so it tries to avoid it in any way: coffee shops abandon plastic lids and tubes, parquet producers are moving to a cyclical method of raw materials, which requires planting new trees. Modern laboratories are trying to create environmentally friendly materials that come naturally. And interior designers are more likely to integrate restored furniture into their projects to support recycling and upcycling.
The desire to be special is another of the main reasons. Old vintage things are an added value to your life. Some collect or restore them to enrich the design industry with unique things, others study and accumulate this knowledge. Vintage things are in trend now because they can give you and the space completely unique emotions.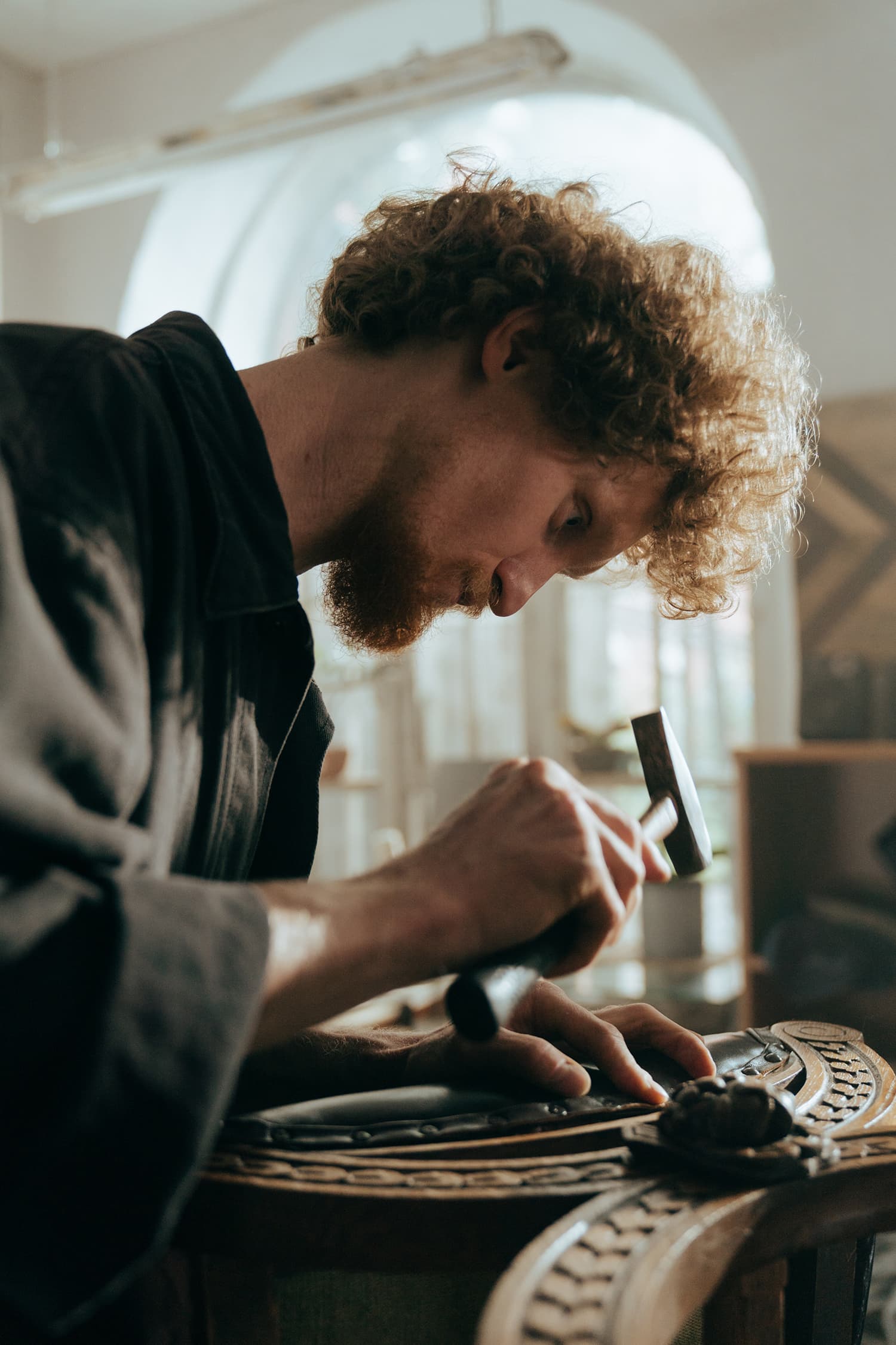 How to Understand Whether the Furniture Is Subject to Restoration
This is very difficult for an untrained person to understand because it requires at least a minimum of experience in working with the material. If you are a beginner, it is better to consult with local manufacturers on this issue. If you have a wooden chair, contact your local wood craftsman. They may not even charge for such a consultation.
Anyone can intuitively assess and understand the state of the item. If the frame is insignificantly damaged, restoration is possible. Otherwise, it is better to consult with a professional or not to buy the item. The main thing: any item can be restored regardless of its condition, but the cost will vary depending on the complexity of the restoration.
Restoring a Chair: How to do it
If you decide to restore old furniture, you have two options: turn to professionals or do it yourself. Before making a decision, you should assess all the pros and cons. If your furniture belongs to the category of antiques, do not experiment, and it is better to consult a specialist immediately. After all, trying to restore the furniture yourself, you can harm it. 
The services of professionals will cost more but will save you time and will be more qualitative, and the result will be long-lasting. Self-restoration is a more budget option but requires more time and effort.
The process of restoration of wooden furniture consists of several stages:
Furniture should be washed and dried well before starting work. Then, if possible, disassemble the parts and remove the fittings. Before starting, take pictures of the fasteners and their general appearance. It will be easier to collect all the elements after the restoration using the photo, and it will be possible to compare the result with the original appearance.
Next, you need to clean the surface from varnish or paint. You can use sandpaper, special solutions, or a construction blow-dryer. You can combine these methods.
The next step is to repair minor damage. Cracks and scratches can be filled with furniture wax. For more significant damage, use wood putty.
Then you need to remove all the bumps with fine sandpaper, wipe off dust, and dry.
Now you can move on to the finish. If you want to preserve the natural texture of the wood, use varnishes, and wood oils. If you want to add color, choose among the paints for furniture. Remember that some varnishes and paints need to be primed before painting.
For the restoration of metal furniture, you can use the same algorithm, adding a coating of anti-corrosion solution before painting.