Architecture, art and design practice NEON has unveiled its latest project entitled The Wind Cathedral as part of this year's Horizons exhibition in the Sancy Massif in France. The Wind Cathedral is a site specific installation that both protects and shelters the inhabitant while also celebrating the forces of nature through a constantly changing interior space.
The Wind Cathedral is located at the village of Victor-Saint-la Riviere in the Sancy Massif in France and was constructed in June 2017 as part of the environmental art exhibition "Horizons". The artwork is a site specific response to the Perdue cross (meaning the lost cross in English) which was placed in this location following the tragic death of a woman who become lost 200 years ago and ultimately perished in a terrible storm on the site. The Wind Cathedral surrounds this cross with an architectural space which recognises the story of the woman's death and allows the visitor to contemplate our relationship with the natural world.
The Wind Cathedral uses the wind as a means of creating dramatic movement within the interior of the structure. This is achieved through a complex 3 dimensional fabric envelope composed of hundreds of wind sock inspired inflating pockets. The inflation of the envelope activates the interior and creates an ever changing space that breathes in and out with the flow of the wind. The volatility of weather on the site means that the space can shift in behaviour from moment to moment, one minute it is calm, the next moving violently. The Wind Cathedral's conical form is inspired by the volcanic landscape it sits within. From the inside, this repeating, primitive form allows the inhabitant to observe changes in wind direction.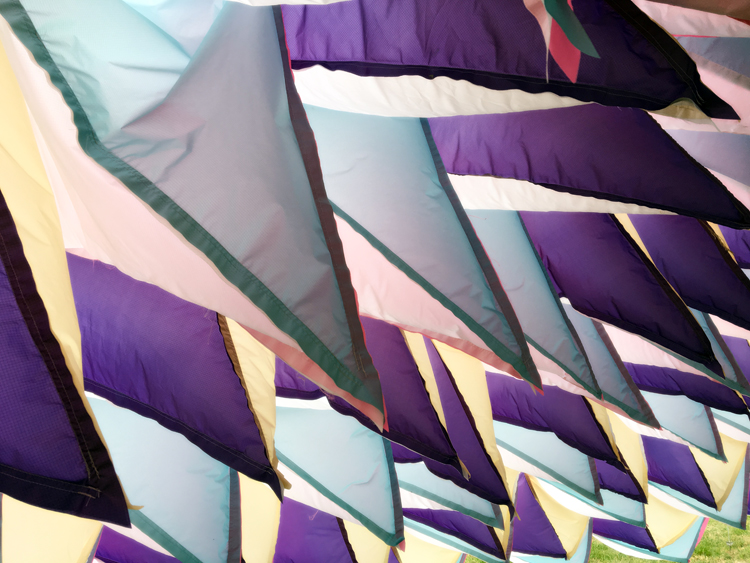 Colour is used to add definition to the envelopes inflating pockets and offer a sense of "hide and reveal" when the wind changes the interior space. The colours that were selected were inspired by the stained glass windows that are often found in spiritual spaces. An oculus type opening sits in the centre of the form offering a window to the sky which, along with the sculpted dome-like shape of the interior, suggest some of the architectural qualities of a real life cathedral.
The Wind Cathedral's primary structure is a tripod from which 30 tensioned steel rope lines radiate to the ground in order to stabilise the structure. The 30 wind catching sections sit between the radiating lines. Each of the sections is composed of 14 unique windsocks which are adjusted in width and depth to create the cone form on the exterior and the sculpted dome space of the interior. The artwork uses 500m of ripstop fabric and 14,000m of cotton thread in its construction and was fabricated by a team of 5 over a period of 1 month.
The Horizons exhibition in Massif du Sancy features 11 installations in total and will be open until 24th September 2017.
all images and video courtesy of NEON Architecture