This 32 square-meter cabin was designed and built by London-based firm De Rosee Sa to replace an existing structure and accommodate a guest house and studio as well as functioning as a seasonal spot for picnic and BBQ's outside the tiny picturesque village of Nouvelles in Belgium.
The brief for the Woodland Cabin was to create a lightweight, simple, and economical structure. It was key that the new-build felt as if it had been in the location for a number of years and that it had a dialogue with the local vernacular of agricultural buildings. As such, De Rosee Sa proposed a rustic wooden structure, which features an all-black exterior, a steeply-pitched roof and a smoking chimney.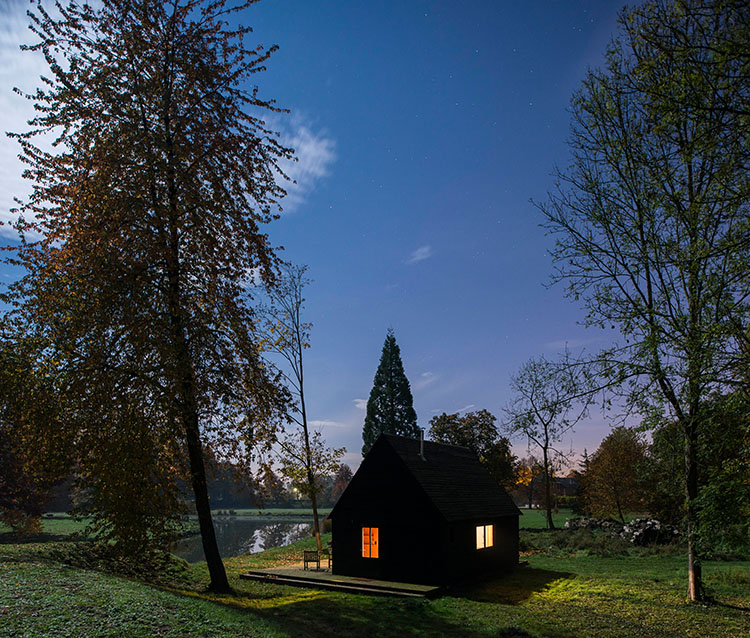 The cabin, commissioned by the father of founder Max de Rosee, stands between a lake and a wood. Both the structure and external cladding are spruce timber, milled from trees in the surrounding woodland that were felled in a storm.
To create the black facade, wood stain was mixed with recycled tractor engine oil obtained from nearby local farms. The timber doors and windows, fixtures, fittings and the stove were all salvaged. All these elements were imperative in keeping the self-build project on budget.
Inside, trussed scissor rafters are left exposed, while the walls and floor are lined with oriented strand board (OSB) – a robust, engineered panel made up of wooden strands. The boards, also acting structurally, tie the timber studwork together.
Apart from a wood-burning stove that provides the building's heating, there is no fixed furniture in the main space. This allows it to accommodate different activities, from working to sleeping to socializing. The main room opens onto a raised wooden deck, from which guests can look over the woodland lake.
Openings to the cabin have been orientated in response to particular views and approaches, capturing the nature of the surrounding woodland. Working within the £25,000 budget (∼$30,000 USD), De Rosee Sa's practice undertook the construction of the cabin themselves during various trips over to Belgium.