Italian architect Carlo Ratti Associati has created Lift-Bit, is a modular, digitally-reconfigurable furniture system that allows a sofa to seamlessly turn into a chair, a chaise longue, a bed, a lounge room, and a myriad of other configurations.
The system is composed of a series of individual, upholstered stools. Each element is motorized using a linear actuator, enabling it to be raised or lowered. Height can double (or halve) in just a few seconds.
Lift-Bit can be controlled in person, via a simple gesture (just hovering your hand in the air over the seat), or from a distance, through the use of a mobile app. The app includes both a series of predetermined three-dimensional shapes and a tool to create new, dynamic combinations. Paying homage to radical British architect Cedric Price's 1970s "Generator Project", the Lift-Bit system can even become 'bored': when not used for a long time, it will start shape-shifting on its own to engage users.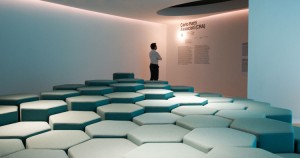 The dynamic Lift-Bit system is further enhanced when assembled in large compositions, as at the XXI Triennale's installation. Here, activating a single stool will trigger a broader effect, with the entire system recalibrating and generating a potentially infinite number of arrangements. Two elements together can make a chair. Four elements, a chaise longue. Nine elements, a large sofa. Dozens can radically redefine any settings, even with configurations reminiscent of a volcano or the Grand Canyon.
"Architecture has often been described as a kind of 'third skin' – in addition to our own biological one and our clothing. However, for too long it has functioned rather like a corset: a rigid and uncompromising addition to our body", says Carlo Ratti, Director of the Senseable City Lab at the Massachusetts Institute of Technology (MIT). "Lift-Bit draws on the potential of Internet of Things (IoT) technologies to transform our interior landscape, giving form to an endlessly reconfigurable environment. In the future, we could imagine an architecture that adapts to human need, rather than the other way around – a living, tailored space that is molded to its inhabitants' needs, characters, and desires."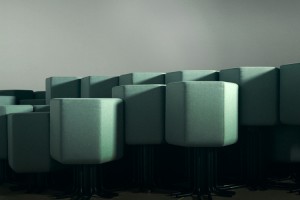 "Thanks to the liberating effect of technology, the way we live and work is becoming more flexible. We are excited to be present at the "Rooms" exhibition at Milan's Triennale, supporting Carlo Ratti Associati in this exploration of innovative ideas for our interiors", says Eckart Maise, Chief Design Officer of Vitra.
Lift-Bit will be on show as part of the Rooms – Novel living concepts showcase at the Milan XXI Triennale International Exhibition during Milan Design Week 2016 from 12 to 17 April 2016. Carlo Ratti Associati's Lift-Bit furniture system is part of a range of new interactive products created with the support of Swiss furniture brand Vitra.
all images © Mybosswas +  Michele Versaci | video courtesy of Carlo Ratti Associati