Following the success of the first Neobio Family Park in Shanghai, architecture firm X+Living has now completed its successor, which occupies the first floor and atrium of the Hangzhou Star Avenue Mall. Since the family park is located at the riverside, designers drew inspirations from natural views in the composition of the design.
Based on the original layout of the shopping mall, Hangzhou Neobio Family Park was divided into four major functional areas, each with multiple accessory spaces. Such division took into account age groups, interests and behaviors of kids, while at the same time combining functions for entertainment, education and rest during parent-child activities.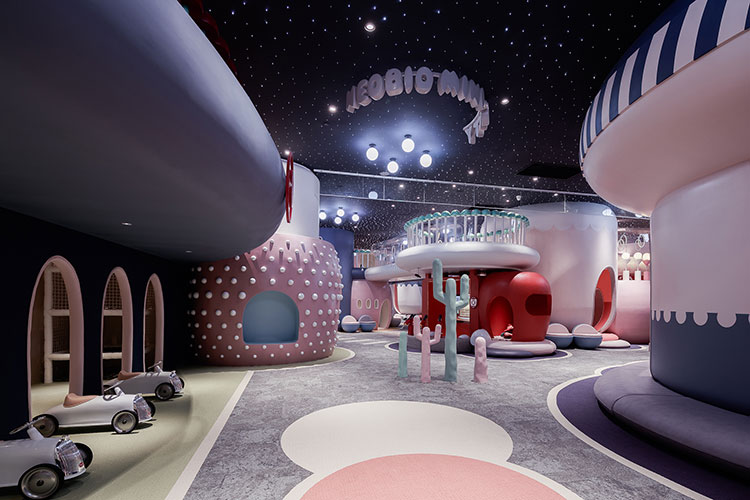 The reasonable circulation in the space makes it a comprehensive family park that integrates entertainment, education and rest areas. Situated at the atrium, the 'Occupational Experience Area' takes the shape of a virtual town for children, with spaces for rest, dining and entertainment. Oversized parasol structures mark out the location of different functions and contribute to a playful atmosphere, improving the overall aesthetic quality of the shopping mall and enriching the experience of consumers, who can enjoy the open view from the various floors.
Fantastical structures and decorations are integrated into the parent-child activity center, including a circus-like counter in the water play area, robot-shaped ovens in the bakery classroom, and a huge castle that appears as if made of cardboard. The reading area simulates the relation between the rainbow and clouds, with an abstracted composition of structures that double as bookshelves and play objects where kids can climb on.
Located in Shanghai, the first Neobio Family Park Li Xiang designed has achieved high recognition among parents with its diverse functional areas and color collocations. However, the newly launched Neobio Family Park in Hangzhou is not only a combination of functions and aesthetics but more importantly an experimental design that explores the layout of shopping malls in the future.