Over the last three years Yamaha's Yard Built programme has gone from strength to strength, consistently working with the world's top custom builders to deliver fresh takes on the Sport Heritage range of motorcycles. The latest collaboration, with Belgian builder Fred 'Krugger' Bertrand, takes it to a whole new level with a stunning layer of MotoGP history cleverly woven into the custom Yamaha SR400.
Having agreed to collaborate together with Yamaha on a Yard built project, Fred chose to take inspiration from close friend and fellow Belgian Bernard Ansiau, who just happens to be a MotoGP mechanic for arguably the greatest rider of all time, Valentino Rossi.
Whilst this role alone is enough to place Bernard as one of the most enviable mechanics alive, his CV is also littered with legends, having previously prepared the racing machines for Yamaha greats such as Wayne Rainey, Kenny Roberts, Randy Mamola and Norick Abe amongst others.
Fred and Bernard agreed to take the humble Yamaha SR400 as the base, and then bring alive the racing spirit of the 1970s in a tribute to the Yamaha TZ machines and also to mark Bernard's career.
"This Yard Built really is a unique piece of art," commented Yamaha Motor Europe Marketing Coordinator Cristian Barelli. "I think it's impossible to have a custom that lives and breathes our racing history better than this. It's such a beautiful bike and the longer and closer you look at it the more detail you find to enjoy. You wouldn't normally associate the SR400 with MotoGP racing but this build is as genuine and authentic as its possible to get, a real Yard Built special!"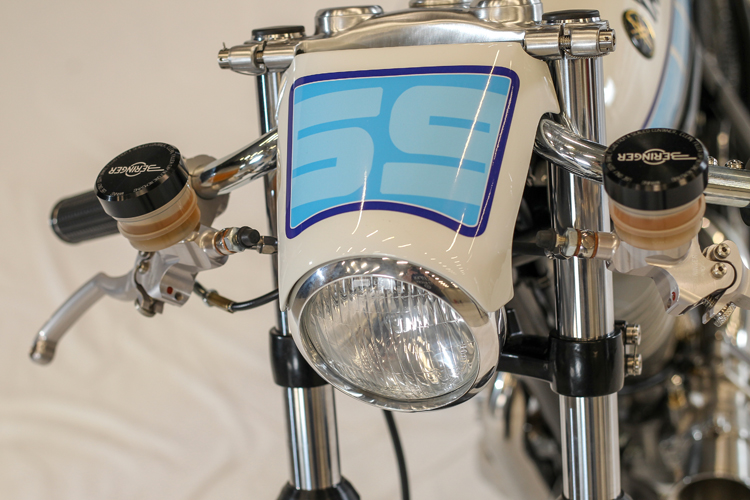 As to be expected from a build inspired by the pinnacle of MotoGP racing, the little SR400's engine gets some serious work, most noticeably with a beautiful Aisin 300 supercharger with custom plenum chamber. A one-off stainless steel exhaust system is complemented by an S&S 48mm carburettor in place of the fuel injection system. The beautifully polished front forks have been lowered and balance with a set of Fox shocks at the rear. Keeping the SR400 rubber side down are a set of Dunlop K81s, inspired by the first tyre to lap the Isle of Man TT course at over 100mph.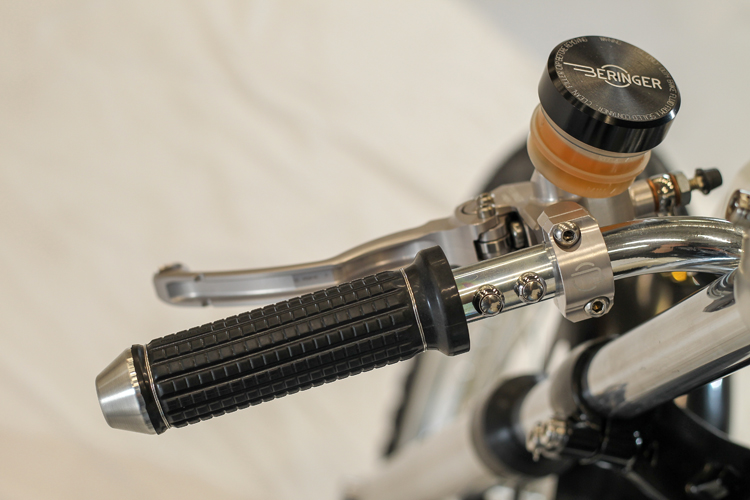 There are almost too many custom details to mention as Fred's obsession with perfection spills across the SR400. Motogadget speedo, switches and grips sit behind a tiny custom cowl at the front above a modified top triple clamp and custom handlebars. The brakes and clutch have been given an upgrade and are by Beringer, adding some power over stock to match the supercharged 400
The standard SR400 fuel tank has been kept, but reworked to be narrower and longer and a custom tail unit hides all the electrical components. A stunning interpretation of the Yamaha Speedblock in blue and white completes the colour scheme, with the names of all the riders in Bernard's racing career written into the design. Under the back seat the eagle eyed will also spot a small light-hearted homage to the Doctor himself! It genuinely doesn't get any better than this, a true work of art.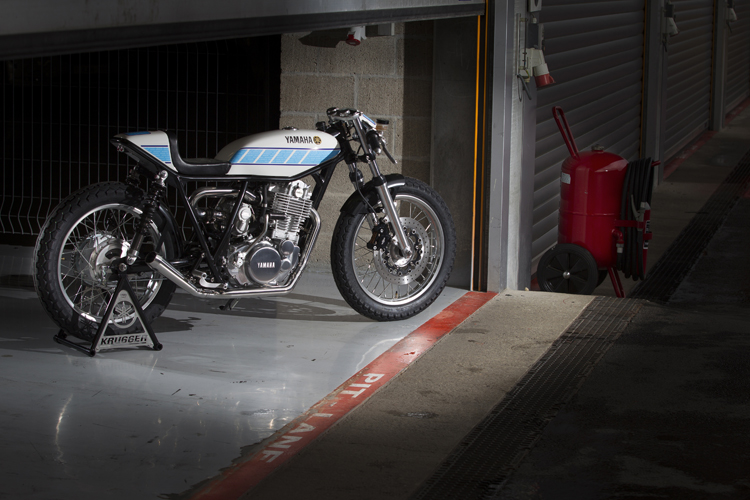 all images courtesy of Yamaha