Yamaha's Yard Built program returns to the USA for the SCR950 'Chequered Scrambler' by Brat Style. Yard Built project is a regular visitor the land of Stars and Stripes. Both west coast and east coast builders have delivered stunning interpretations of Yamaha's Sport Heritage range, including the New York's Keino Cycles XJR1300 Rhapsody in Blue and of course California legend Roland Sands' multiple Yard Built creations.
For the very first custom build of the new Yamaha SCR950, Yamaha has turned to legendary Japanese builder and California resident, Go Takamine of Brat Style. With a fearsome reputation for shaping custom motorcycle culture, Go Takamine was the perfect choice for this first special build.
To create the 'Chequered Scrambler' Go Takamine cleaned up the front end, adding wider handlebars for better off-road control and a new smaller headlight unit. Brat Style signature engraving can be found on the beautiful fuel cap, paying tribute to Yamaha's Faster Sons platform as well as a beautiful engraved custom air filter cover.
Custom rear suspension by Works Performance is added for greater travel and ground clearance and a handmade sub-frame and rear fender cleans up the back end to match the front. Chunky off road tyres are added to prototype wire rims and no Brat Style bike would be complete without his signature rear light unit. Custom exhausts run both sides of the Chequered Scrambler and a handmade heat shield keeps the legs from cooking! A handmade seat unit by Mauricio Aguilar and old school paint graphics featuring vintage Yamaha graphics and chequered flags by Denis Babin on the tank complete the bike and leave it ready for any scrambling challenge.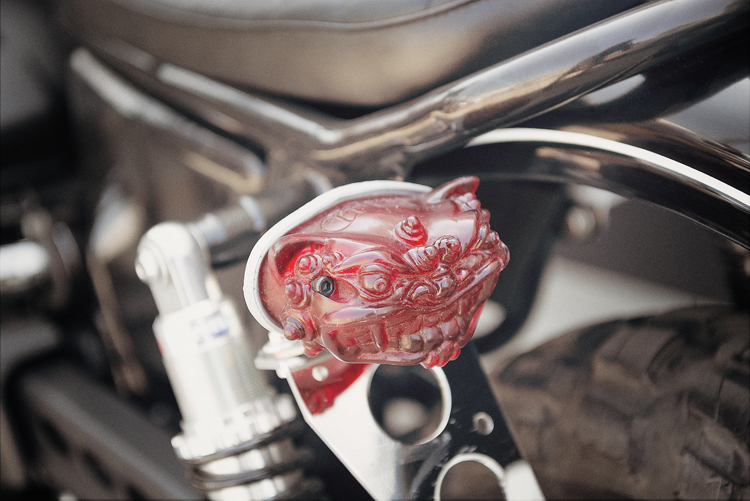 all images courtesy of Yamaha