A team of MIT engineers have partnered with designer Yves Béhar to realize a system of robotic furniture system for micro apartments that transforms at the touch of a button. The Ori system is a compact module that incorporates a bed and a closet on one side, and a home office and an entertainment suite on the other.
"Cities such as London, Seattle, San Francisco and almost everywhere else are seeing an influx of young professionals, yet those urban centres are more expensive and more condensed," said Béhar. "Our goal was to find a single unit scenario that would maximise the value of a micro studio or one bedroom apartment."
Hidden into the bottom of the unit is a comfortable bed that glides in and out. When tucked in, the bed is hidden under a closet, office and couch to maximize space. When activated, the unit slides in and out to become a bedroom or a more generous living room.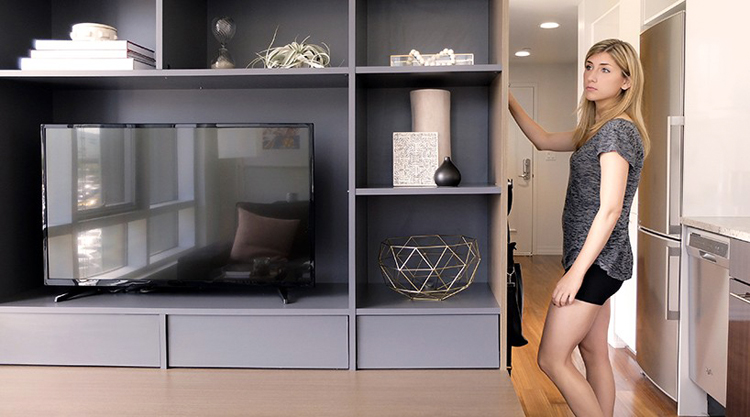 One side of the unit hosts a full closet, but also hides a desk for a home office; the other side holds a media center for entertaining. Each room can be preset for a space, including preferred integrated lighting, so that one touch on the physical interface or on the corresponding app will morph the room.
The on-device console uses manual glider buttons that make the owner feel as though they are magically moving the unit. The Ori system goes beyond functionality – customization of finishes, materials and colors truly lets you own your space, and the functionality means a small space can be transformed into a multi-functional home in just seconds.
all images courtesy of Ori