If you have a small space, designing a laundry room that is functional and stylish can be tricky. These laundry room ideas can help you create the perfect area while maintaining a cute décor. From storage to washer and dryer layouts, check out these amazing small laundry room design ideas to find the best setup.
Hide It Away
Putting together a small laundry room doesn't mean that it has to be an actual, separate room. If you live in a small house or apartment, look into repurposing a closet or pantry. Use a curtain instead of a door to save on even more space or opt to install a sliding door for a practical and chic look. Based on these examples, there are many ways to design the room to save on space while maximizing storage and efficiency.
Alternatively, go for a two-in-one machine instead of a separate washer and dryer and place it in the bathroom. You can separate the area from the rest of the space with a slim faux wall to maintain a tidy aesthetic. 
Location
Where the laundry room plays a big role in how efficient your household will be. If you have more space to play with, carefully consider the placement.
Ideally, the laundry room should be near where other housekeeping activities take place – mainly the kitchen. Placing it next to the kitchen or a bathroom also means that you can tap into existing plumbing lines instead of taking on even more costly remodeling.
Many homeowners choose to place the laundry room in the basement, which is a clever way to go if you can spare the space. On the other hand, having the laundry room next to the bedrooms allows it to be closer to where most dirty clothes originate from.
Weigh the pros and cons of each option and decide which placement works best for you.
Create An Efficient Layout
With a small laundry room, keeping things simple is your best bet. This is especially true when it comes to layout. Arranging the room with productivity in mind should be on top of your list of priorities.
It should go without saying, but appliances should be placed in front of utility hookups. If you have a separate washer and dryer, stack them or put them side by side. That way you can easily transfer clothes from one to the other.
Install open shelving or closed cabinets above or near the machines. According to The Spruce, you'll need the extra storage space when you are organizing all your laundry essentials. Consider putting in a workstation to – like a countertop or even a kitchen island – to make folding easier.
Baskets are another laundry room necessity. You may want a big one if you have a large family and invest in a couple of smaller ones that enable you to transport clean clothes with ease.
Make It Functional
Just because you use this space to do laundry doesn't mean that it can't serve multiple functions. Consider a laundry room/pantry/closet hybrid, with multiple cabinets to store items or foods you don't reach for every day.
Alternatively, use this space as an impromptu home office. Working moms know how crucial even a few minutes of alone time are. Add a stool and small desk to the laundry room. You'll be able to catch up on emails while the washer hums away.
Or, put together a hobby corner – like a sewing station, scrapbooking station or gift wrapping station. As long as you're willing to make the most of each nook and cranny, even a small space can hold endless possibilities. 
Pick The Right Color
Since the space is small, settle on colors that will make your laundry room look more spacious.
Pastels and neutrals are your best bet. Elle Décor recommends you focus on shades of blue, gray, and pale pink. An off-white that resembles natural linen also works, making the room look warm and welcoming.
Pro tip: laundry rooms get humid. Use a semi-gloss paint finish on the walls to keep them looking pristine for longer.
If you enjoy pops of color, achieve those via décor. A fake plant on a shelf and a small painting on the wall will break the visual monotony. 
 
Settle on A Theme
Eager to flex your interior design muscle? Pick a theme for the laundry room and spending time there will be more pleasant. Nautical, rustic, farmhouse, vintage – choose your favorite look and get decorating!
Keep the theme in mind whenever you shop for everything from flooring to accessories. It's an easy way to ensure that even the most boring room of the house exudes personality. 
Add A Touch of Whimsy
Even if you decide to forego having a theme to tie your laundry room together, you can still add a touch of whimsy to this otherwise sterile space.
Funky wallpaper or a gallery wall: why not? This is an area of the house that guests will never see. Go as overboard as you want. 
 
Take Advantage of Vertical Space
Here's the thing about storage space – most households never have enough. While adding cabinets or shelves to your laundry room is a no-brainer, there are other ways to maximize vertical space without sacrificing design.
Mount dryer racks to the wall or hang a giant pegboard for flexible storage. Attach a hanging rod to make steaming clothes a breeze. Use pedestals to gain a bit more storage space underneath your washer and dryer.
Finally, shop around for fixed or portable storage systems that fit the space to T, like. A slim rolling cart, for instance, can be a godsend.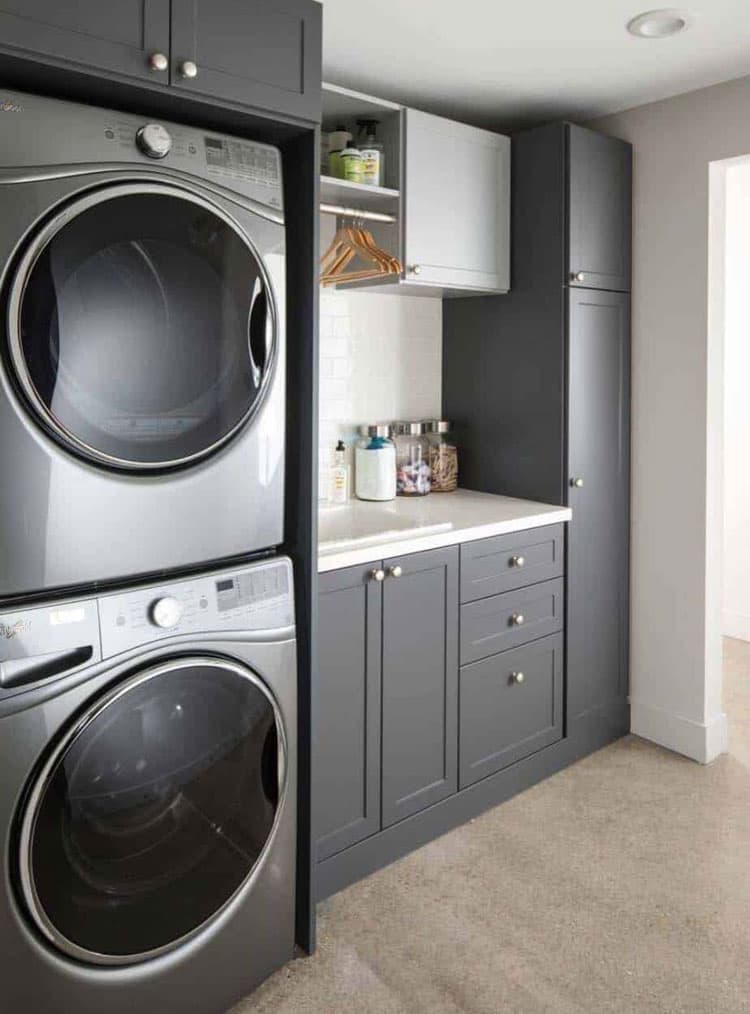 Organize
Make sure that each supply has its designated place and laundry will become much less of a chore. If you opt for open shelves, invest in matching storage boxes or baskets for a polished look. Use glass canisters for detergent to give it a luxe feel. Look up organization ideas on sites like Pinterest or Instagram for inspiration.
Buy in Bulk
Laundry detergent, cleaning supplies, stain removers or fabric softener – these are items you always need. If you have the storage space (as long as you followed the previous tips, that's a given) and money, buy in bulk. You'll save big in the long term.
Hunt sales and use coupons to make the most of your budget. Other things you can buy in bulk include toilet paper, paper towels, diapers, and sanitary pads. For fun, keep track of how much you save in a year. We bet it will be a small fortune.