Motor Trend named it one of the five greatest Ferraris of all time, Sports Car International called it one of the top 10 sportscars of the 1960s, Top Speed said it's more attractive than the 250 GTO, Road & Track simply called it "gorgeous," and that's just the beginning. The Ferrari 250 GT Short Wheel Base (SWB) Berlinetta is unquestionably one of the greatest sports cars ever made.
In Carmel, California this August, during the world's most prestigious car enthusiast week, an exceptional 1962 Ferrari 250 GT SWB will be auctioned by Bonhams. Lightweight and endowed with a tremendously powerful motor and excellent suspension – not to mention incredibly attractive looks – the 250 GT SWB was highly competitive and won races with alacrity. "It's this combination of engineering, design, rarity and racing success that's made it a legend and one of the most sought-after sports cars on the planet," says Jakob Greisen, Bonhams VP – US Head of Motoring.
And the example to be offered is no average SWB either if there is such a thing. Chassis number 3337GT is a documented, matching numbers, Ferrari Classiche certified car equipped with original coachwork and period competition features. It's also the recipient of an exacting professional restoration by the late master Wayne Obry of Motion Products and later Rex Nguyen, and is presented in its original livery of Grigio Conchiglia.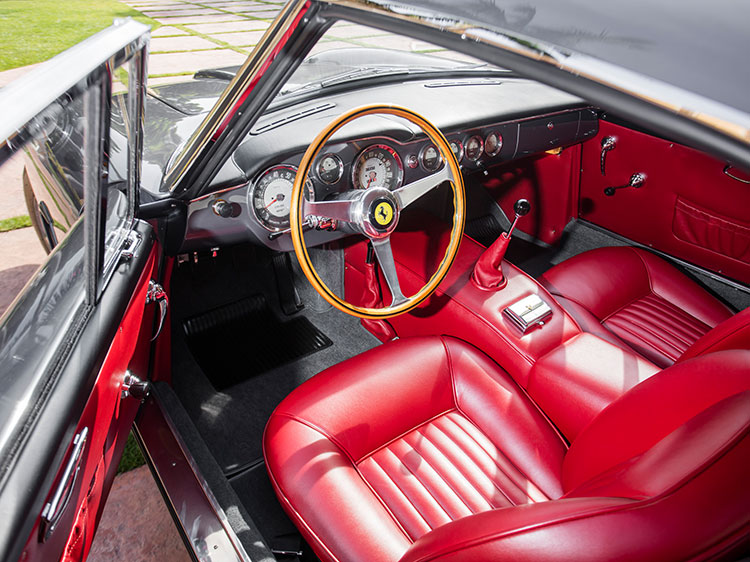 A testament to the superiority of its condition, it has won a host of prestigious awards. Some of these include: 1st in Class at the Cavallino Classic, 1st in The Greatest Ferraris Class at the Quail Motorsports Gathering, 2nd in Class at the 2017 Pebble Beach Concours d'Elegance, Best GT at Mar-a-Lago, Best Restoration at the Cavallino Classic, and, most telling, Best Roadcar and a perfect 100-point title from the Ferrari Club of America International Meet. Ferrari number 3337GT may be quite possibly the best Ferrari 250 GT SWB in existence.
This extraordinary automobile – or "dynamic sculpture," a term used by Ferrari Head of Design Flavio Manzoni – will be offered on Friday, August 24th at Bonhams' Quail Lodge Auction in Carmel, California along with a wealth of other exceptional automobiles.