Aston Martin has unveiled the new DBS Superleggera, a true thoroughbred that marks the return of not one, but two illustrious names. With DBS, Aston Martin is reviving an iconic nameplate that first appeared on in 1967, while Touring's famous mark – Superleggera – will once again adorn the bonnet of an Aston Martin.
A collaboration that originally paved the way to the DB4, 5 and 6 Mark 1, DBS Superleggera pays homage to the historic super lightweight construction technology of the famous Italian coachbuilder.
In the new DBS Superleggera, Aston Martin has a Super GT that's a breed apart. One that takes the fight to the world's best on its own terms. Clad using immaculately sculpted carbon fibre body panels this latest model is blessed with muscular, highly individual styling. A look that's perfectly matched by epic performance courtesy of Aston Martin's 5.2-litre twin-turbo V12, tuned to produce tremendous power and immense torque for breath-taking response and extraordinary in-gear performance.
As the British marque's magnificent new Super GT flagship, DBS Superleggera replaces the esteemed Vanquish S. That's a tough act to follow, but one it was born to do. With 725PS, 900Nm of torque, a top speed of 211 mph and blistering acceleration that dispatches 0-62 mph in just 3.4 seconds and 0-100mph in 6.4 seconds, DBS Superleggera is a car dedicated to delivering an unforgettable driving experience and class-leading in-gear acceleration, with 50-100 mph achieved in fourth gear in a mere 4.2 seconds.
While being resolutely modern in design and engineering, DBS Superleggera proudly evokes the towering reputations of Aston Martin's hardest hitting and best-loved flagships from the past. Combining generous proportions with aggression and athleticism, DBS Superleggera expresses itself with an explicit design language. One that combines compelling curves with advanced aerodynamics for a sleek shape that both cheats the wind and clamps the car to the road.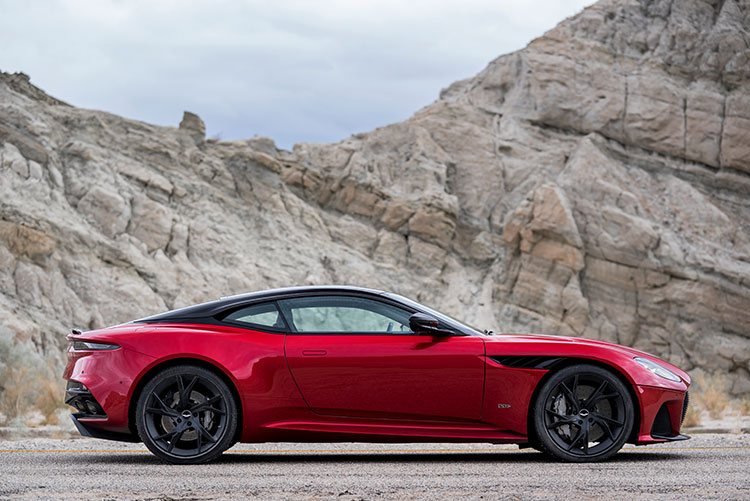 Evolving innovative aerodynamic concepts first seen on the DB11 – such as the curlicue and Aeroblade – and then taking things further with an F1-inspired double-diffuser, DBS Superleggera generates 180kg of downforce at VMAX: the highest figure ever for a series production Aston Martin. This significant increase comes with no additional drag penalty.
DBS Superleggera features a generous level of standard equipment, including keyless entry, tire pressure monitoring system and a 360-degree camera with Parking Distance Display and Park Assist. The audio system has DAB plus Bluetooth audio and phone streaming, iPod, iPhone and USB playback. There is also an integrated satellite navigation system and wi-fi hub. All the in-car infotainment systems use a central LCD screen, controlled via a central dial.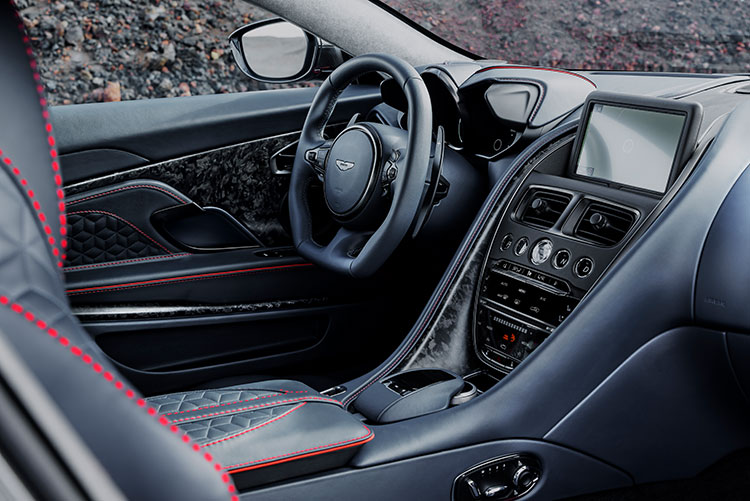 As befits its flagship status, DBS Superleggera features a high level of craftsmanship with extensive scope for personalization via a generous choice of options. Supple, aromatic leather and Alcantara upholstery comes as standard, as do the Sports Plus performance seats and steering wheel. There is a choice of two alloy wheel designs: the standard 'Y' Spoke Forged Wheel and the Lightweight Twin Spoke Forged wheel. Both are 21" in diameter and fitted with Pirelli tires developed specifically for DBS Superleggera. There is also a choice of striking Designer Specifications, with specially chosen color and trim combinations selected by the Aston Martin Design Team to accentuate certain aspects of DBS Superleggera's character.
The DBS Superleggera starts at $304,995, and deliveries begin later this year.