Smart homes are growing in popularity recently as they allow for a lot of customization, control, and automation in your home. While transforming your home into a smart home might seem like a large and insurmountable task, that doesn't have to be the case. There are several easy and affordable ways to make your home smart, and this article is going to look at a few of them.
Get Smart in the Kitchen
The kitchen is the room where many of us spend a lot of space, so it makes sense to start there. You can do several different things in the kitchen to make it a smarter and more efficient place to be. You can add a smart fridge, smart oven, and various other appliances that are not only smart but also efficient.
Using a smart speaker like a Google Home or Amazon Alexa in the kitchen is also a great idea. They can help you find recipes, add to a shopping list, and even answer questions. Also, consider adding a Waterdrop water filter. These not only ensure you are drinking safe and filtered water but also can display the quality of your water in real-time.
Add Smart Lighting Throughout the Home
Smart lighting is another way to make your home smart. These are light bulbs (and even switches) that can be remotely controlled with an app. These let you ensure all lights are off in your home, without even having to move. Some can even be automated, depending on your unique preferences.
In addition to being able to be controlled remotely, smart lighting options are also more efficient and can save you money. They use up much less energy than traditional bulbs and can also last much longer. Between being able to dim these lights and even change their colors in some cases, smart lighting can also be very fun.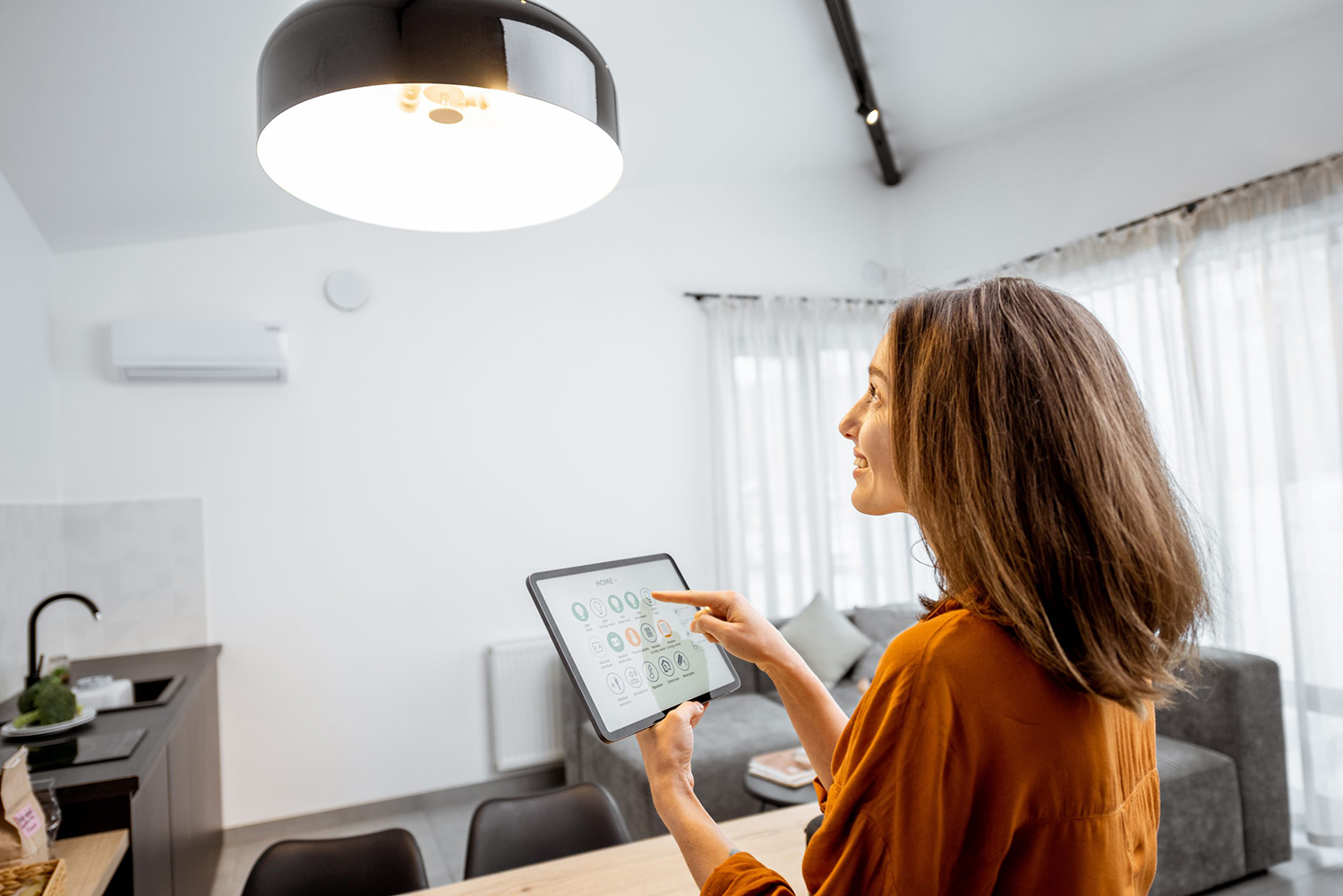 Install a Smart Security System
Security systems play an important role in keeping you safe. They can reduce the damage and loss of a break-in and can often deter break-ins altogether. Despite these benefits, only a small percentage of American homes use a security system of some kind. A big thing keeping some from installing one is the fear of it being overly complex and expensive.
While you might think installing a security system is a big job, that is no longer the case. Smart and modern security systems are wireless and can often be installed without any assistance at all. These systems can often connect with other smart technology in your home and be controlled and armed/disarmed remotely. Some will even come with cameras so you can always check on your home when you're away.
Use a Smart Thermostat with Automation
Between forgetting to turn off the heat or air or leaving it on all day, so you're comfortable when you get home from work, many of us waste a lot of energy. By installing a smart thermostat, this problem all but stops. These devices can let you control the heat and cooling of your home from anywhere. You will no longer need to run the heat all day so your home is warm when you come back. Simply turn on the heat remotely 30 minutes before you get off work.
Some of these even feature automation. Some can be pre-set with your desired temperatures at desired times, and others can even learn your preferences over time and make temperature changes themselves with that information in mind.
A Smart Home Without Complication
Having a smart home might seem like a long and expensive journey, but this doesn't have to be the case. By adding a few smart concepts into the kitchen, some smart lighting, a smart security system, and a smart thermostat, you are well on your way.