Automatic doors are frequently installed in both commercial and residential buildings. They're incredibly convenient, which is why they're so widespread. However, they're also relatively expensive, and if something breaks down, you can expect a huge bill. 
Unfortunately, it's impossible to avoid paying for the repairs. After all, every object running on electricity sooner or later starts to exhibit signs of wear and tear. This technology is not foolproof, but you can make it last longer. In this article, you'll learn what to do to keep your automatic doors in good condition and reduce possible repair costs to the minimum. Without any further ado, let's jump right into it!
Book a Preventative Service Appointment
According to experts from Entrance Access Solutions, preventative maintenance is your best bet to keep your automatic door functional as long as possible. After all, if you let a professional take a look at the way it operates, they can act quickly and do small repairs if needed.
During a regular service appointment, you can expect the expert to perform the following:
Inspect the doors and all components for any signs of wear and tear.
Lubricate all the moving parts.
Secure the handrails.
Tighten and align door tracks, rollers, arms, and bottom guides.
Adjust safety features, motion sensors, and door speed.
Clean the track and door header.
Repair and replace any parts, if needed, and upon your approval.
In case you're wondering how often you should ask for a preventative service appointment, the answer is at least two times a year. Experts recommend booking an appointment before the holiday season and then in early spring, to remove potential salt and snow buildup, if you experience harsh winters in your region.
Get an Extended Warranty
In case you're installing a new automatic door, ask for an extended warranty. It doesn't matter if you know how to maintain it or if you're new to this – it's your best bet to get peace of mind in case the door breaks down for some reason. What's more, ask the installer for a warranty on individual parts; you can never be too sure, and it's better to be prepared for the worst than pay much more when you can avoid it so easily.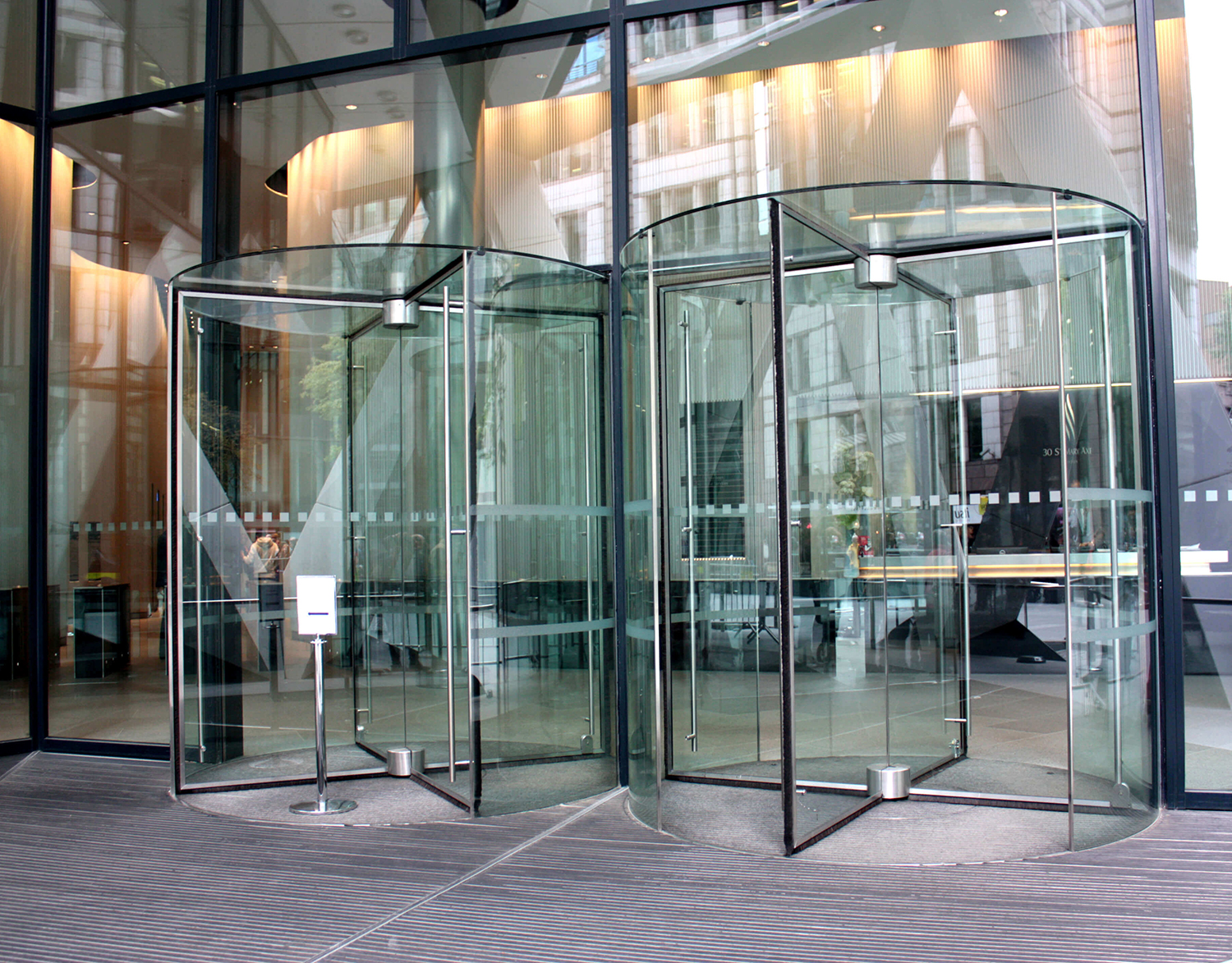 Replace Small Parts
If you have an automatic door, it's important to check it regularly and don't let it go unserviced for too long. After all, replacing the whole door will be much more expensive than repairing smaller parts from time to time. After you decide to install automatic doors, you're probably going to use them on a daily basis, and so will your employees and customers. 
It's the smaller parts that are going to get worn out sooner. That's why it's so important to let the professional perform regular checkups, as well as get an extended warranty for the parts that are the most prone to breaking down. If you were to calculate the costs, you'd notice that replacing smaller parts more frequently is more cost-efficient than conducting repairs whenever something major happens.
Display Correct Signage

 
Let's be honest: it's the people who walk through the automatic door that contribute the most to their wear and tear. Very often, they don't use them correctly, despite it being seemingly so obvious.
Some people pay no attention to signs. Nevertheless, make sure you put clear signs on how to use our automatic door in plain sight. Ensure that people see right away what type of door is it, and instruct them not to push. If the door moves slowly, even you may be tempted to force them to work faster. However, it's an easy way to break them down. If you have issues with the door speed, bring it up during the next service appointment. A professional will adjust it for you, and it will definitely cost you less than repairing a broken motor.
Keep It Clean
If you want to reduce the costs related to your automatic door's maintenance and repairs, keep it clean. Turn it off and wipe them down, and don't forget about the sensors. Then, look for objects that can obstruct the door and hinder the effectiveness of the sensors. If you see any, remove them carefully. Remember not to tamper with the electronic panel while you're at it! If you notice something's out of order, call a professional to check it out.
Try to inspect the condition of your door regularly and, if possible, clean it daily. Such a mundane activity can make all the difference!
The Bottom Line
It's convenient to have an automatic door, but paying for the repairs certainly isn't. While it's impossible to avoid repairs at some point, there are many things you can do to keep the costs as low as possible. If you don't want to pay a considerable price for your lack of attention and maintenance, consider taking care of your automatic door more regularly than only when they break down.