They say, first you judge how nice, then you judge how wise.
It seems like the online world is no different as a customer has just a few seconds to make an impression about your site. It is style, usability, selected color palettes, and user interface that will determine the behavior of your first-time visitor and whether they choose to stay or navigate away.
While Magento has it all to ensure high website security, efficiency, and scalability, there are a few aspects any store owner should keep in mind when designing or improving your site's interface.
This article has been written to share actionable means of creating a design that helps you stand out, boost search rankings, and boast a successful user experience.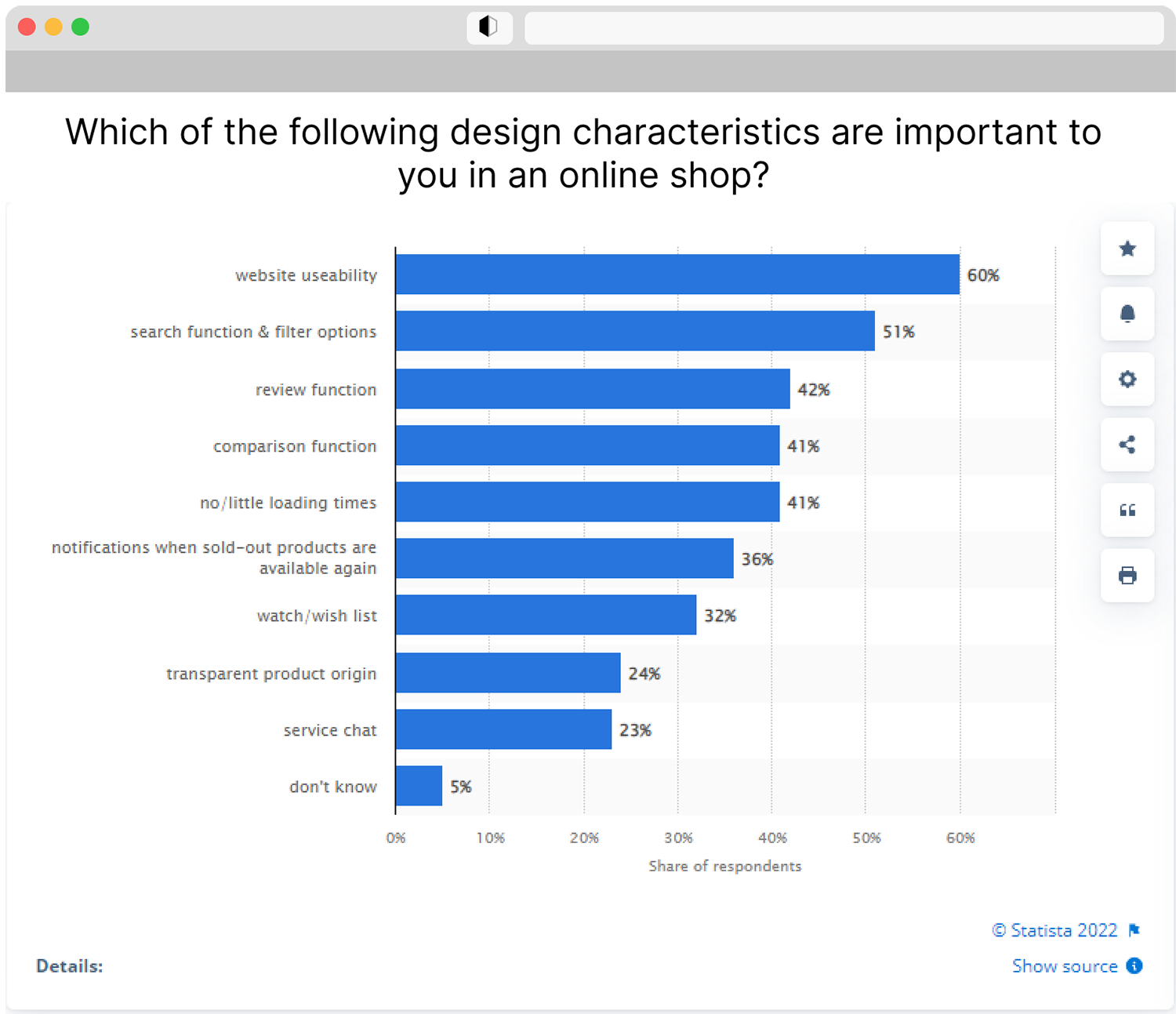 Image credit: Statista
Tips to Make Your Magento Site's Design Outstanding
Any eCommerce platform has its peculiarities. Magento is no exception. Knowing these tips will help you make the most out of this powerful platform:
Responsive and highly customizable theme
When doing Magento, the choice of a theme is essential. Besides flexibility, customizability, and mobile-friendliness, the matter of compatibility should be taken into consideration.
Often, store owners need to opt for third-party solutions, and if a selected theme is an unpopular one, compatibility issues may take place.
Thus, when choosing a pre-built theme, do your quick research on how many third-party extensions are made compatible with it. Otherwise, you might require help from an experienced Magento developer or ask vendors for customization services, which may result in additional investment.
Optimized images
Product photos are crucial for e-commerce sites because they can significantly influence a customer's purchasing decision and increase the likelihood of a sale. High-quality, detailed, and well-lit product photos can help establish trust and credibility with potential customers. You can use photo editing services like
Pixelz
to enhance the overall aesthetic of your e-commerce store.
Using an editing service in the final step of your content creation will also help ensure your images are optimized for the web and keep your site's load speed up. While the quality of the used images is important, ensuring your visuals are well-optimized is no less critical.
Otherwise, heavy images can negatively influence your site's load speed and result in an increase in site abandonment rates. No customer has the patience to sit and wait when a page loads.
A few seconds of delay – and your potential consumer lands on the competitor's web page.
Clear Call-to-Actions
What steps should your customer take to achieve the goal?
It's vital to think over the whole process carefully and in detail. Making it easy for the consumer to navigate to the object of their search is more likely to result in a conversion.
The general rule is simple – avoid placing more than one CTA on a page.
After your sales goals are set, make sure your site visitors do not get carried away by some other information and navigate away without completing the targeted action.
And it will never hurt to double-check the accuracy of your links and simplicity of site navigation.
Checkout process that is right for your consumer
Choosing between one-step and multi-step checkout flows seems like a timeless question, which actually has no correct answer.
You should know your potential buyer and cater to their expectations.
If you are just launching a business and don't have enough user data, have a sneaky peek at your competitors' websites. Analyze it and create a better shopping experience following your unique business idea. Other sites can become a starting point for you.
Then, test and create feedback. Instantly.
Personalized experiences
When designing a store, it should be easy for customers to find what they are looking for quickly.
Your product descriptions must be compelling and accurate. There should be no misleading information listed.
The next step is to consider what kind of personalization you can offer.
Are you going to offer personalized discounts? What about prices personalization? Will there be different prices for wholesalers? Will you tailor specific prices for specific customer groups? Will you offer personalized related products?
Answering these questions will help you decide on which steps your business will take to offer a more personalized shopping experience.
Design with SEO in mind
SEO is the king but is it related to design? Absolutely.
Take your site has a top menu, which unfolds upon a click and lists a small selection of your offerings. To navigate to the complete list of items, a user would need to make an extra click.
Or, your category pages are beautiful but your design team decided not to place content blocks above and below the listing – no good for SEO either.
The key takeaway here is to let your SEO experts take a look at the site's prototypes in advance. This person might share some valuable insights that you can make provision for within your future design.
TLDR
Outstanding website design is a game-changer for many reasons. Briefly, to make your Magento store a success, you should focus on:
Making all call-to-actions strong

Coming up with your site's aesthetics

Opting for highly customizable themes and Magento extensions

Leveraging your SEO activities

Learning from your customers' experience

Personalizing

Testing and improving
And as you invest in building an excellent customer experience, the growth of sales and profits won't be long in coming.