Torafu Architects recently performed the interior design of the Australian skin care brand Aesop's Grand Front Osaka store. With its 3.9m-high ceiling and 7 meters square plane, the project area offers a simple space with a glass facade that stretches the whole frontage facing the promenade.
The combination of the soft pink colored walls and ceiling and the Japanese cedar green found at the center of the space has a warming effect on the interior of the store contrasting with the otherwise cold stone and glass material decking the promenade. Moreover, the fixtures, such as the consultation counter and point-of-sale (POS) counter, are made from squared Japanese cedar logs of varying length, which also help partition the storage room from the front of the store.
While the rough veneer of the Japanese cedar creates a contrast with the homogenizing effect of its surroundings, the top surface of the squared logs of varying length are punctuated by aptly placed sinks, thereby bringing about a soothing sense of rhythm to the store.
Furthermore, shelves made of black steel help frame the store by bridging the space between fixtures and columns. The shelves make Aesop's products stand out by creating a floating impression, while at the same time projecting a subtlety that balances the solidity of the wooden fixtures. Finally, the vintage pendant lamp hanging over the POS counter and the lounge chair sitting in the corner of the store help convey a sense of intimacy and consideration towards the customer.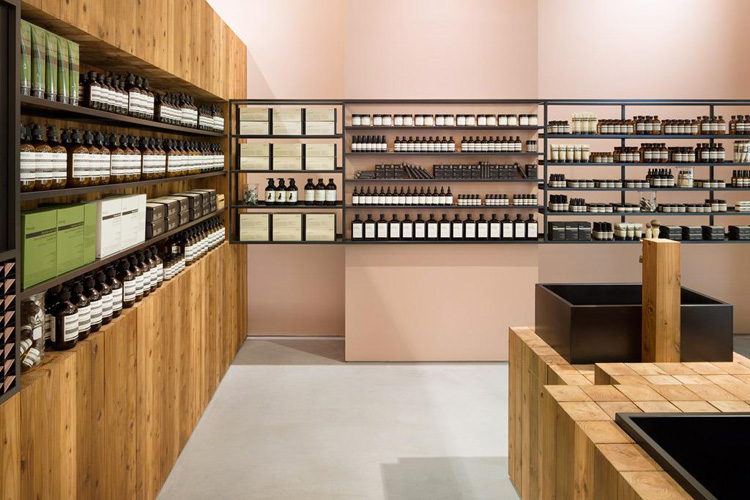 all images © TAKUMI OTA