The new Aesop store on Brussels' Rue de Namur designed in collaboration with Bernard Dubois Architects, explores Modern and Post-Modern curvilinear forms on the street level of a six-storey terrace. A streamlined façade eschews ornament—the pre-existing windows emerge as a rectangular, geometric composition against a warm, dark backdrop.
The interior employs mottled, blond briquettes reminiscent of 1930s Belgian architecture to evoke bittersweet memories of rainy, childhood holidays on the Belgian coast. Bucking tradition, the briquettes are stacked vertically on the walls and in a baton rompus parquet on the floor. Chamfered corners and arching forms create a continuous flow of the repeating briquettes, recalling 1970s pool-side chic.
Brushed aluminum shelves line the walls, drawing the eye down into the bottleneck corridor which then opens into a domestic area with seating, a kitchen, washroom, and storage. Oiled Oak joinery amplifies the warm tactility of the design.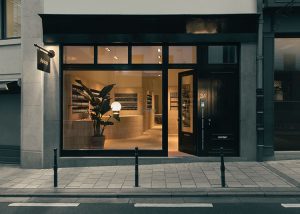 Clients can explore and select from a complete range of skin, hair and body care products, distinguished by botanical and laboratory-generated ingredients of the highest quality. Thestore's trained consultants are able to offer advice about products best suited to individualneeds.
Aesop is known for its approach to store design, with no two branches the same. It regularly works with local architects and designers to create its interiors. Recent examples include the Bath store by James Plumb, which references stone-fronted buildings and Roald Dahl stories, and a branch in Montreal by Alain Carle Architectethat uses green suede and brass details.