Airbnb has unveiled 'The Warehouse', its new International Headquarters designed in collaboration with Irish architecture firm Heneghan Peng, located in 4,000 sqm warehouse in Hanover Quay, Dublin.
The Warehouse had fallen into disrepair before Airbnb intervened with a whole new design incorporating a 'neighbourhood' concept which reflects Airbnb's "Belong Anywhere" ethos with a choice of work spaces and configurations, but at the same time allowing for teams to gather in one dedicated base to encourage collaboration.
The space is divided into primary and secondary work spaces. The primary work spaces consist of 29 neighbourhoods with identical components, for up to 14 people each. Every neighbourhood comprises of one large table, personal storage, one or two sit stands and one lounge spot.
Individual desks have been replaced by one large central communal table with custom-built furniture by local craftsmen.
Secondary work spaces include the 'Agora' – a space that connects the first floor to the basement –, a kitchen area and the meeting rooms. The central staircase forms the main focus point of the interiors and serves multiple purposes, from a large conference space and community event space for up to 400 people to a lounge working setting. The interior design of each meeting room is inspired by existing Airbnb listings around the world taken from Portugal, Greece, Romania, Japan, Sweden, Morocco and France.
"The warehouse was a rare opportunity for our team to start from scratch and further evolve the 'belong anywhere' workplace philosophy that makes airbnb unique," says Rebecca Ruggles from Airbnb's environments team. "The combination of neighborhoods with the visual and physical connection across the atrium provides just the right balance of privacy and socialization."
"Working with Airbnb to design the warehouse has been a fantastic journey," adds Shih-Fu Peng, co-founder of Heneghan Peng Architects. "Following our collaboration on the watermarque building in dublin, it's been an honor to continue this work to create a productive work space of sharing and interactivity with airbnb's 'neighborhood' concept."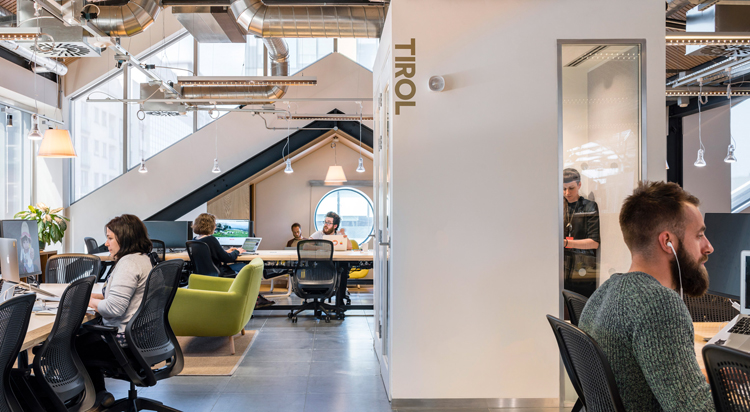 all images © Donal Murphy