Artist Anish Kapoor's Descension – one of artist's most viscerally arresting installations – has been unveiled in Brooklyn Bridge Park, marking the official launch of New York's annual NYCxDesign festival. Sited at Pier 1 in Brooklyn Bridge Park, this massive, continuously spiraling funnel of water harness one of the most evanescent of materials and create a striking contrast with the adjacent East River. Anish Kapoor, among the most influential artists of his generation, has had a career-long engagement with space and the limits of perception.
Perhaps best known for his iconic public artworks, his last major outdoor sculpture in New York City was Public Art Fund's presentation of Sky Mirror, his 35-foot-diameter concave mirror at Rockefeller Center in 2006.
With Descension, he has created a dynamic negative space that descends into the ground, disturbing the familiar boundaries of our world. In the midst of a quintessential New York park, Kapoor invites us to experience the sheer perceptual wonder of an ordinary material like water made to behave in an extraordinary way. Anish Kapoor: Descension will be on view until September 10, 2017 at Brooklyn Bridge Park, Pier 1.
"As we celebrate 40 years of bringing remarkable public art to New York City, it's important to recognize those artists and exhibitions that have shaped the discourse and been so memorable to our broad public audience. We're thrilled that Anish's newest work will be a highlight of this anniversary season, more than a decade after his outdoor debut with us," said Public Art Fund Director and Chief Curator Nicholas Baume.
Since the mid-1990s, Kapoor has explored the notion of the void by creating works that seem to recede into the distance, disappear into walls or floors, or otherwise destabilize assumptions about the physical world. Descension realizes a long-held aspiration of the artist to create a negative space alive with energy, continuously in process. 26-feet in diameter, the spiraling funnel of water is treated with an all-natural black dye, creating an opaque, seemingly endless hole.
The whirling pool is surrounded by a railing, inviting audiences to peer into its dark depths. Through this transformation of properties inherent to materials and objects, Kapoor blurs the boundaries between nature, landscape, and art, allowing us to perceive space differently.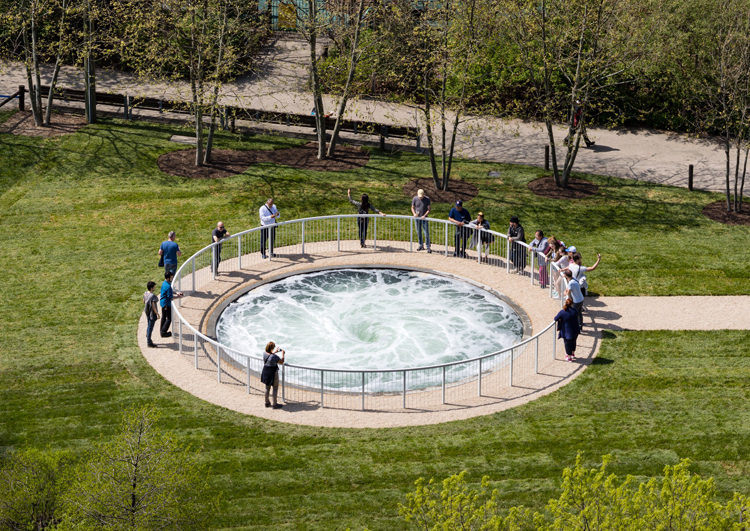 "Anish Kapoor reminds us of the contingency of appearances: our senses inevitably deceive us. With Descension, he creates an active object that resonates with changes in our understanding and experience of the world," said Baume. "In this way, Kapoor is interested in what we don't know rather than in what we do, understanding that the limit of perception is also the threshold of human imagination."
First envisioned as a smaller, interior work for India's Kochi-Muziris biennale (2014-15), Descension was later re-imagined as a large-scale outdoor piece for Kapoor's solo exhibition at Versailles (2015). This is the first time the artist brings Descension to North America, giving visitors a unique chance to experience one of Kapoor's most innovative new works.
The work will be on show daily from 9am to 9pm until 10 September 2017 at Pier One, Brooklyn Bridge Park.
all images by James Ewing | courtesy of Anish Kapoor and Public Art Fund