APWorks, a subsidiary of airplane manufacturer Airbus, has conceived the world's first 3D-printed motorcycle that weights just 35 kilograms. With a 6 kW electric engine, the Light Rider goes from zero to 50 mph in just seconds and features a frame boasting a mere 6 kg.
3D-printing technologies have revolutionized the design and manufacturing process – not only in terms of structure and aesthetics, but also in impressive weight savings on parts and equipment when compared to those made using conventional manufacturing techniques. APWorks used an algorithm to develop the Light Rider's optimized structure to keep weight at a minimum while ensuring the motorcycle's frame was strong enough to handle the weight loads and stresses of everyday driving scenarios.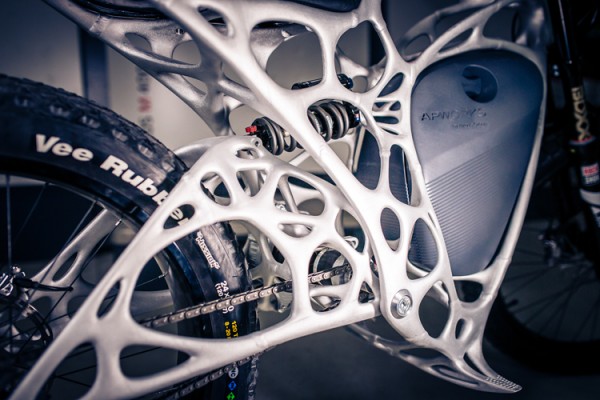 The result is a motorcycle that looks more like an organic exoskeleton than a machine. That was a very deliberate design goal for APWorks, which programmed the algorithm to use bionic structures and natural growth processes and patterns as the basis for developing a strong but lightweight structure.
Each 3D-printed part of the Light Rider's frame – produced using a selective 3D laser printing system such as these best 3d printers for miniatures, that melts millions of aluminum alloy particles together – consists of thousands of thin layers just 60 microns thick.
Leveraging the benefits of 3D-printing technology, APWorks designed frame parts that were hollow instead of solid, which has allowed for integrated cables, pipes and screw-on points in the finalized motorcycle structure – resulting in a dramatic 30% weight reduction over motorcycles produced using conventional manufacturing techniques.
You don't have to wait long for the chance to ride the motorcycle of the future. APWorks is offering a limited production run of 50 Light Riders for sale, which can be pre-ordered at here.
all images and video courtesy of APWorks