Swedish design agency Adolfsson & Partners designed the new offices for interactive game developer King located in a building of the first half of the twentieth century in the heart of Stockholm. With an ambition to bring King's world of games and characters to life, Adolfsson & Partners created a colourful and energy-filled office featuring both humour and intelligent solutions.
A huge pink candy troll on the glass facade of the office says hello when you step out of the lift, orange candy stripes lead you to the entrance door and a neon sign welcomes you. A soft, white, egg-shaped reception desk inspired by one of King's many games is centrally located and leads directly to the external meeting rooms. The rooms' glass screens are in various colours in order to provide clear guidance and character. Each meeting room features its own games "personality" in the form of graphics on the walls or glass panels. From the reception area you are then led further into the office via four speed gates.
King has created several hundred games and even though they differ they all take place in various fairytale landscapes. This inspired architects to divide the kingdom into ten different areas: Deep Sea, Countryside, Treasure Island, Green Hills, Magic Forest, Sandy Dunes, Mountain Tops, Wild Jungle, Kingtown (Upper and Lower) and Pavilion Park.
Each landscape has been carefully and consistently colour coded and staged to ensure recognition and easy navigation. Graphics from the world of games are constantly present and playfully applied as wallpaper, vinyl on glass or three-dimensional objects.
King uses a Scrum-based work method and therefore requires a flexible solution for its workstations when the teams change their size and composition, as well as places for both quick stand-up meetings and longer meetings in rooms. Writing surfaces must always be close at hand.
By interrupting the long aisles and corridors of an open landscape with lateral branches set at a 45-degree angle, open Scrum squares are created for meetings around the whiteboards or in the lounge furniture.
The project configures varied and flexible spatiality around the various work teams by using specially designed moveable textile screens in the form of a stylized geometric landscape. Their playful forms dissolve the straight lines of the architecture, create rooms within rooms and contribute to a better acoustic environment. All the desks have user-friendly rounded corners and can be raised or lowered to create an ergonomic work environment.
The meeting rooms vary in size to accommodate both large and small bookable meetings. Each room has its own graphics that reflect the area's concept, partly on an accent wall and partly on the foreground glass of the room. This creates a diorama, which provides an overall picture in terms of perspective and scenography.
Distributed around the office are many places for concentration or conversation plus smaller, non-bookable rooms, a separate "cabin" in the submarine, bus or tram, a retreat in the library, and a space for silent concentration or relaxation in front of the fire. The biggest shared meeting space is Pavilion Park – an inclusive party room inspired by Sweden's traditional "people's parks" combined with a touch of the funfair. Here the entire King family can gather for meals or major events.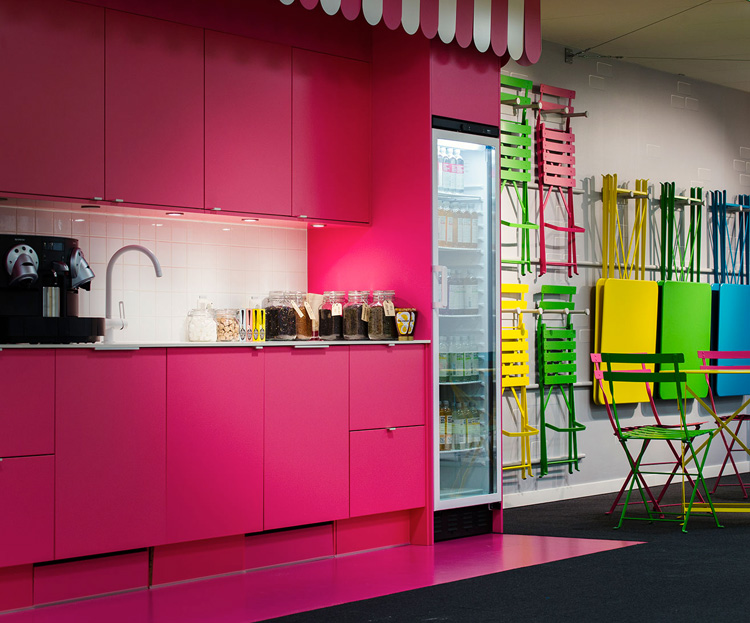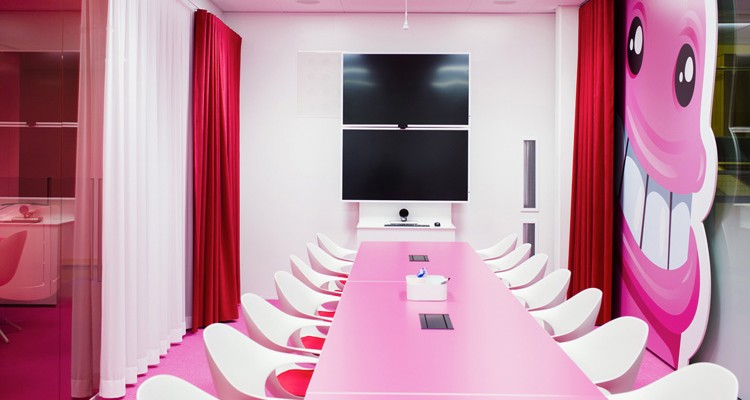 all images © ADOLFSSON & PARTNERS
Comments
comments