Nowadays we live in a world where we are extremely busy and from time to time we need to escape from it. Escape from the stress, duties, and civilizations back to our roots where it all started. With this in mind, Slovak studio Ark Shelter has designed "into the wild cabin", a small black shelter that can work completely off-grid through solar panels, batteries and rainwater collector.
Thanks to its smart technology, this 40 sqm house is a self-sufficient unit, ideal for a getaway from your busy life. "We want to create a place that gives you comfort in the heart of the nature and gives you the perfect setting for a detox of your mind", explains the studio.
With his 5 openings all around, the design team wanted to create a visual focus of the nature all around. There is a big openable wall side and the big front glazing makes you feel like you're sitting outside. The milk glass window in the bathroom gives you the all-natural incoming light you need. Ark Shelter has also made an extra module which is set on the roof and has a big window so you can sleep under a sky full of stars. The Shelter, with its low-tech outlook facade, is created so that it attempts to blend with nature while refining its complex and sophisticated system that automatically works with space and light.
Thanks to an automatical system the heating, cooling, and shadings can be pre-programmed. The double-bed goes up automatically in the ceiling and beneath the bed, there is a hidden jacuzzi, this creates a new relaxing area. The shelter can work completely off-grid through solar panels, batteries and rainwater collector.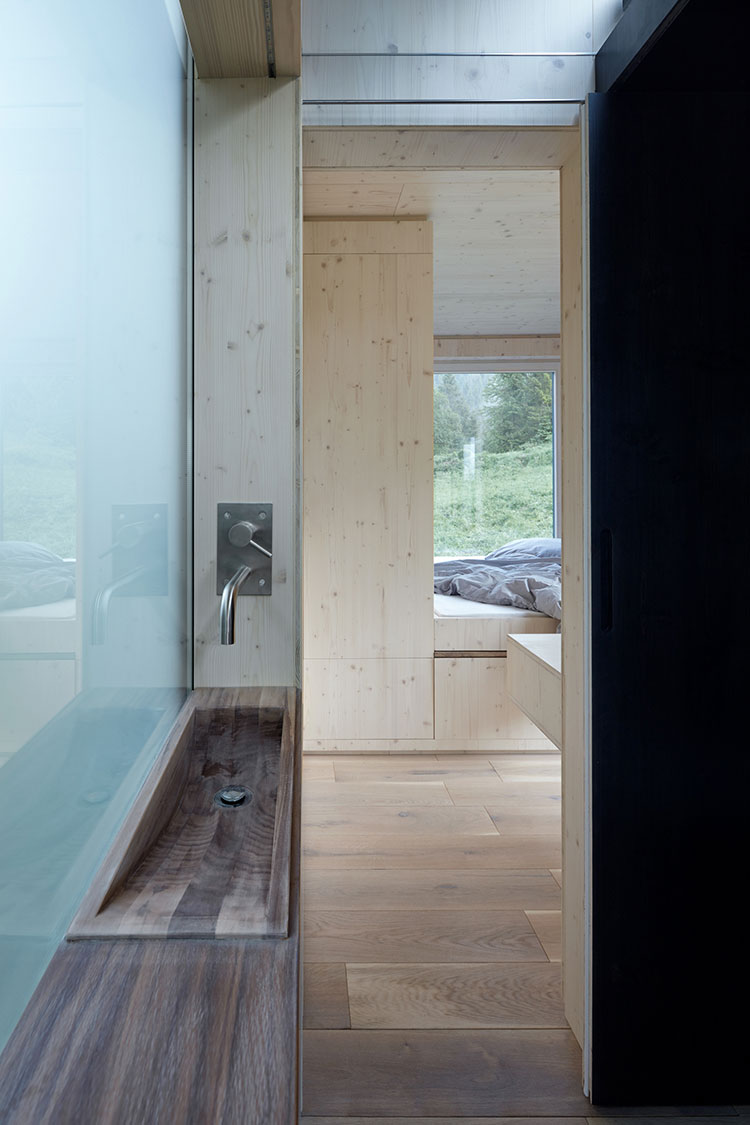 The 40m2 has a central black box in the middle that creates 5 different areas, every single side is part of a particular area in the shelter. The sliding doors in the corners create more space and the different areas can be completely divided. Thanks to the extra module on top we have more incoming light from above.
The left part of the box works as a kitchen and a relaxing zone, the back of the box has a shower and a sink next to the window. Next to the bathroom, we have the big bed and the jacuzzi. The extra module on top is another bedroom that you can also easily turn into a relaxing meditation zone.