Aston Martin and Red Bull Racing have teamed up to create the world's fastest hypercar; codenamed AM-RB 001. It combines the vision and skills of two world-leading brands to create a road car the like of which has never been seen before.
The three men charged with realising this shared vision are: Adrian Newey, Red Bull Racing's Chief Technical Officer; successful F1 designer, Marek Reichman, Aston Martin EVP; and Chief Creative Pfficer and David King, VP and Chief Special Operations Officer of Aston Martin.  Together they combines over a hundred years of specialism – both with heritage, making some of the world's most beautiful and charismatic GT cars, and with technological brilliance and relentless pursuit of speed and efficiency that has seen Red Bull Racing excel in the ferociously competitive world of Formula One.
Reichman and Newey are working closely on all aspects of the project, striving to ensure the AM-RB 001 is an unprecedented fusion of form and function: a car engineered to be entirely useable and enjoyable as a road car, but with the capability to perform like no road car before it on a race track. For those who crave an even more intensely focused driving experience, a track-only AM-RB 001 is also in development, the projected performance of which is in line with that of today's LMP1 Le Mans sports prototypes.
Built around a lightweight carbon fibre structure, the AM-RB 001 boasts truly radical aerodynamics for unprecedented levels of downforce in a road-legal car. Thanks to the genius of Newey's design much of this downforce is generated through underfloor aerodynamics, leaving Reichman free to craft a pure yet breathtaking dramatic form that elegantly expresses both the AM-RB 001's cutting-edge dynamism and the unmistakable essence of Aston Martin.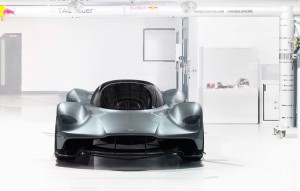 Uncompromising in all respects, the AM-RB 001 is a bespoke machine from the tyres up. It will be built by David King and his team at Gaydon, in the purpose-built facility created for Aston Martin's original hypercar, the One-77. More details of the AM-RB 001's technical specification will be revealed in due course, but its heart is a new, mid-mounted, high-revving, naturally aspirated V12 engine with the potency to achieve a 1:1 power-to-weight ratio; 1 bhp per kilo of weight.
all images courtesy of Aston Martin