Designed by Amsterdam and Riga-based Design Group Eleven, the interior of the new Atlantic Dubai restaurant in Souk Al Bahar in Downtown Dubai is inspired by the magnetic and wild beauty of the Australian coastline.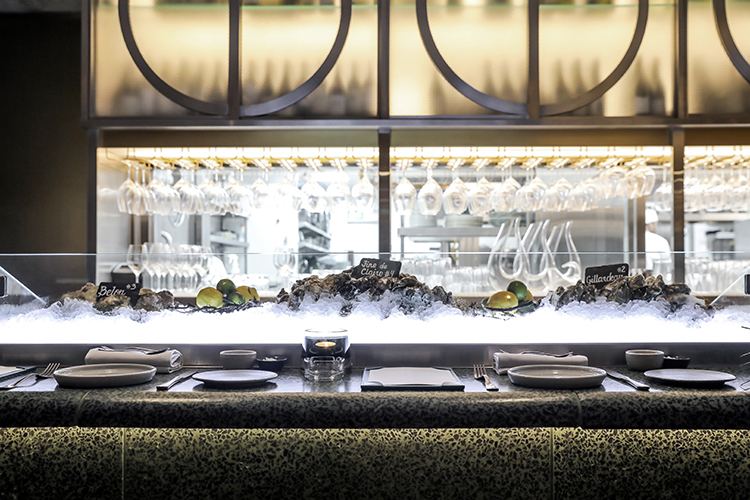 The designers take the customer through a journey, applying the brand's claim from ''Ocean to Plate" by building up layers of ocean-inspired storytelling. The bar area is reminiscent of the industrial and rough vibe of fish harbours and markets, including the hustle and bustle of the Oyster Bar, cocktail stations, and the theatre of an open kitchen. The main central dining area calms the mood down to a relaxed, beach-like atmosphere.
The whole space is arranged around four central massive columns, which are cladded with gradient ombre glass, allowing transformation of the structures into sculptures: conceptual ocean emeralds with a sense of depth and illusion. Weathered timber flooring in a stylized chevron pattern is framed by simple boardwalks running along the surrounding raw sand rock walls, an ideal backdrop for the emerald columns and soft seating, upholstered in sun- burnt shades. The most unique design elements are the windbreak screens embracing the banquette seating. Sailcloth, woven through the bent rattan construction, brings softness and lightness.
The beach pebble theme repeats in warm stone finishes throughout the interior: a monolithic green terrazzo bar counter, elegant table tops, and in situ terrazzo and marble mosaic flooring in the bar area. Detailed metalwork with bottles hidden behind frosted metal-wired glass creates an intriguing backlit feature and sharpens the industrial feel of the bar. Circular shaped bar shelving frames echo throughout in the waiters' station drums, round mirrors as well as custom-made chandelier globe shades, solar eclipse wall lamps, and the bar pendants with smart, rope chain detail.
The design philosophy of Design Group Eleven merges functionality with sensuality. Carefully selected finishes, uniforms and tableware, a nuanced colour palette, organic simplicity of form, and eclectic custom-made fit-out result in an aesthetically harmonious space, an inviting background for the main actor: the delicious seafood dishes. Strong focus on design detail allows the customers to discover the space anew, each time they return.
images © Hyku Desesto Photography & Videography, © Anthony Licuria APL Photography | courtesy of Design Group Eleven