Renowned street artist Banksy has teamed up with Choose Love to raffle a Dismaland boat sculpture in aid to refugee support services. All you have to do is guess the work's weight before December 22, the anonymous artist wrote on his Instagram page. Banksy made international headlines in October when one of his artworks automatically shredded itself at an auction after selling for $1.4 million.
The piece is from his temporary amusement park exhibition in 2015, called "Dismaland," which parodied Disneyland in a disused swimming pool complex in the English coastal town of Weston-super-Mare. The sculpture included floating bodies of migrants and the white cliffs of Dover in what was largely interpreted as a commentary on the European migrant crisis.
The boat is fully remote controlled and comes with batteries. All guesses need to be done to the nearest gram and the "closest guess wins the boat (the wooden plinth is not included in the weight guessing)," Choose Love said. The store also provides a clue to the boat's weight. "The boat is constructed from a shop bought fiberglass hull customized with quick-cast resin figures which are foam filled and hand spray painted," it said.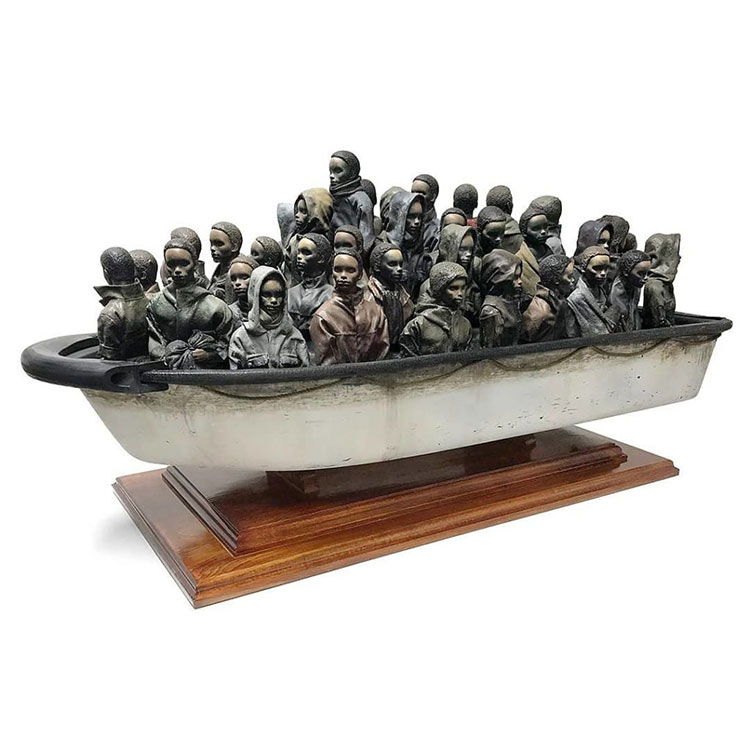 For a chance to win the sculpture, visit Choose Love's website here and guess the weight of the boat. In addition, you can shop the store's selection of products to donate to refugee support. The Dismaland boat sculpture will be on display in the London store and also available to enter the raffle from the New York location.