Bentley announces the rarest and most dynamic member of the esteemed Continental family of Grand Tourers with the arrival of the new Continental GT3-R. Inspired by the new Continental GT3 race car, the Continental GT3-R is a highly exclusive and unique interpretation of performance-focussed luxury, limited to just 300 examples.
Bentley engineers have developed a retuned version of Bentley's race-proven, high performance 4.0-litre twin-turbo V8 for this new two-seater GT. Developing 580 PS (572 bhp / 426 kW) and 700 Nm of torque, together with a 100 kg weight reduction and shorter gearing, the Continental GT3-R is the fastest-accelerating Bentley ever. Capable of reaching 60 mph from a standstill in just 3.6 seconds (0-100 km/h in 3.8 secs), the GT3-R is a Grand Tourer with the performance of a racer.
All Bentleys are a combination of luxury and performance, and the Continental GT3-R is no exception. Featuring a unique two-seat cabin handcrafted from carbon fibre, Alcantara and the finest leather, the GT3-R is as breathtaking in its approach to interior design as to its dynamic ability.
For the exterior of the GT3-R, Bentley's Design team was tasked with creating a more purposeful stance than ever before. A new front splitter provides an assertive look to the front of the car, balanced by a new fixed rear wing fitted to the boot lid – both finished in exquisite carbon fibre.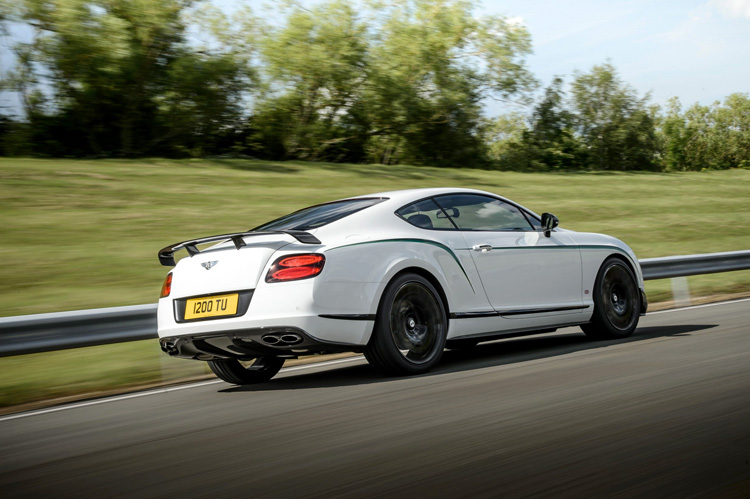 all images courtesy of BENTLEY