Bentley Mulliner has revealed the all-new Bacalar, named after the natural, spectacularly blue lake in Mexico's Yucatan peninsula, is said to be the British brand's rarest two-door car in the modern era.
Just 12 examples of this striking, limited-edition model are being created, guaranteeing rarity and exclusivity, and offering supreme luxury and breath-taking performance. Bacalar looks to the future of bespoke luxury motoring – each model will be handcrafted in Bentley Mulliner's workshop in Crewe, according to the individual customer's personal tastes.
Bacalar has been brought to life by Bentley Mulliner, reviving its specialism in providing rare coach-built cars to only a few discerning customers. A roofless Barchetta design with all-new and highly muscular coachwork, embracing a myriad of options and materials, each Bacalar will be truly unique, the result of direct interaction between the Bentley Mulliner design team and the individual customer.
The dramatic, tapered cowls at the rear hark back to the Barchetta sports cars of old, whilst underlining the promise of a dynamic, driver-focussed adventure in a cosseting, cocooned environment. Pure in line and execution, the distinctive, wraparound cockpit flows from a new, steeply angled centre console seamlessly into the dashboard and doors. These then wrap rearwards towards the semi-enclosed luggage compartment behind the two seats.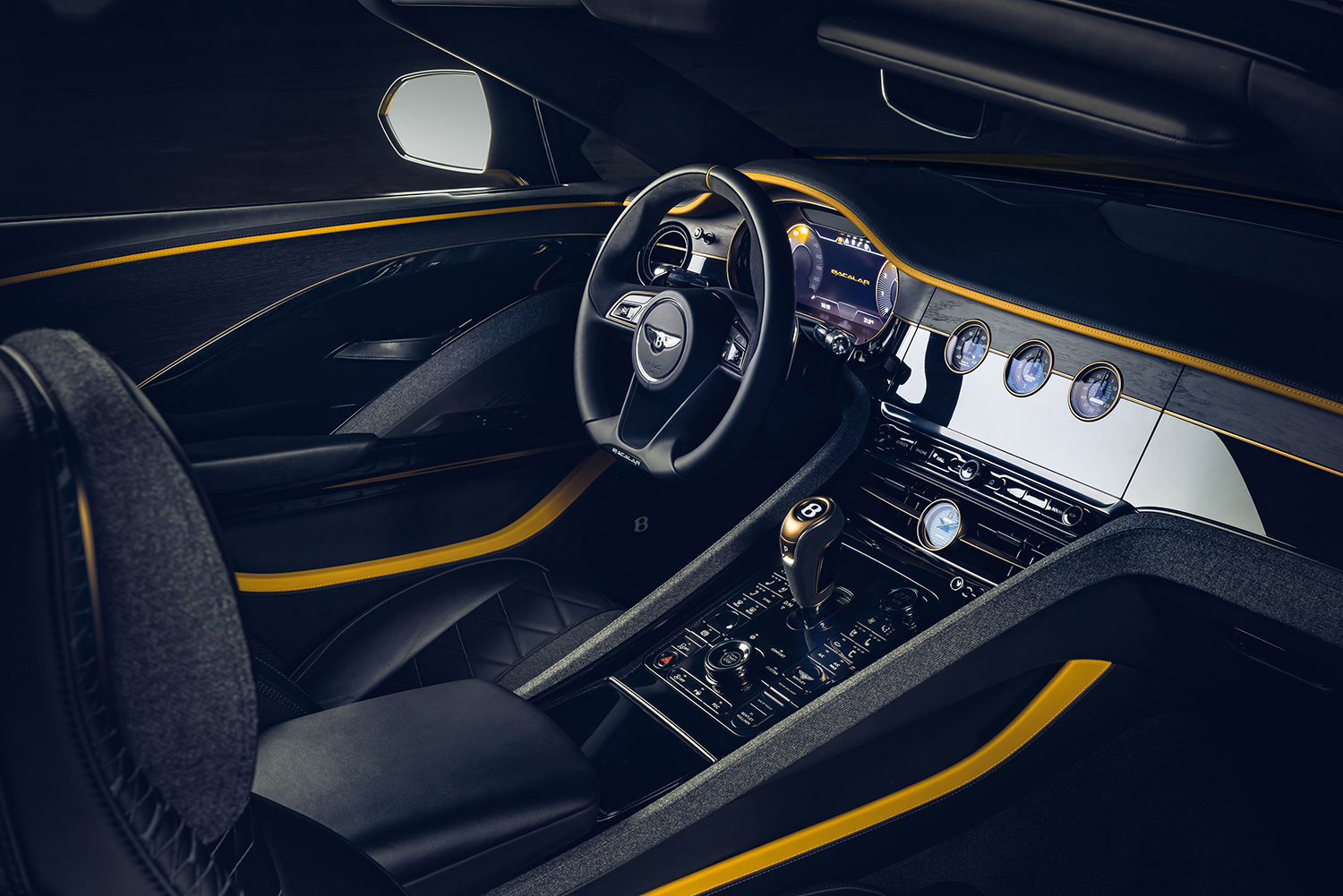 Sustainable, ethically-sourced materials previewed in the EXP 100 GT concept car last year have now become reality in the Bacalar – just eight months after first being previewed. These include paint containing ash from rice husks, which provides a sustainable way of delivering a rich metallic finish, natural British wool and 5,000-year-old Riverwood sourced from the ancient Fenlands of East Anglia.
The Bacalar features an enhanced version of Bentley's peerless 6.0-litre, W12 TSI engine. The most advanced 12-cylinder engine in the world, it produces 659 PS (650 bhp) and 900 Nm (667 lb.ft) of torque.
An advanced Active All-Wheel-Drive System varies the torque split between front and rear wheels. It allows the Bacalar to use rear-wheel drive as much as possible during normal driving for optimum efficiency and dynamic performance. The drivetrain is at the heart of the Bacalar, creating the ultimate open-air, two-seat luxury Grand Tourer available in the world today.
First deliveries are expected in early 2021 for the car, which has a pre-tax starting price of £1.5 million GBP (about $1.9 million USD).