The arched passageway known as the Beurspassage on Amsterdam's Damrak has been turned into a stunning artwork by artist duo Arno and Iris (known for the ceiling art work Horn of Plenty in the Markthal Rotterdam) and Hans van Bentem. The eye-catching piece dazzles with the kind of prestige and splendorous detail typical of the listed buildings that lend Amsterdam its grandeur. With ornamental elements and colours that reference Western, Eastern and contemporary styles, the Beurspassage achieves harmony with the forms and styles of the surrounding buildings, from the graceful late 19th century details of the old stock exchange building, the Beurs van Berlage, to the shop windows along the Damrak and the Nieuwendijk.
The mosaic art adorning the barrel-vaulted ceiling, the chandeliers, the mirrored walls and the granite floor tell a visual story about Amsterdam and its canals, and about the relationship between humans and water.
The ceiling mosaic is made of glass stones in hues of emerald green, and creates the illusion of walking through an underwater tunnel along the bottom of the canal, with fish, air bubbles, reflections and assorted objects gliding, floating and swaying silently above you.
Opposite the shops are mirrors with the same dimensions as the shop windows. The elegantly patterned mirrors are reminiscent of the antique advertising mirrors from the early 20th century. These richly decorated mirrors tell a graphic story based on the theory of the evolution of humans from a water-based habitat, the main constituent of which, according to ancient belief, was brought to Earth in ice form by falling comets.
The metal chandeliers are classically formed, but sport quite remarkable elements, comprised as they are of bicycle parts, such as headlights, wheels, spokes, cogs and frame parts. Above the mirrors are stained-glass wall ornaments with forms referencing typical Dutch merchandise.
The floor is made of terrazzo, a durable type of stone flooring material commonly used in many of Amsterdam's listed buildings. The floor pattern consists of coats of arms.
The title of the work "Amsterdam Oersoep" refers to primordial soup: each object, from the ceiling to the floors, has symbolic references to the city of Amsterdam, its history and its future.
"The ceiling for example contains a tube of paint that flows into a rainbow referring to the colorful nature of Amsterdam, its tolerance for the LGBTQ community but it also contains the image of a tiger, liquor bottles, fish, rats and numerous art historical references to famous artists like Van Gogh and Rembrandt," explains Hans van Bentem. "This work is a journey through the history of Amsterdam, its main arteries, the canals. A crowd stopper, freezing a moment in time thanks to its elaborate craftsmanship and rich materials, celebrating our everyday source of life: our holy water."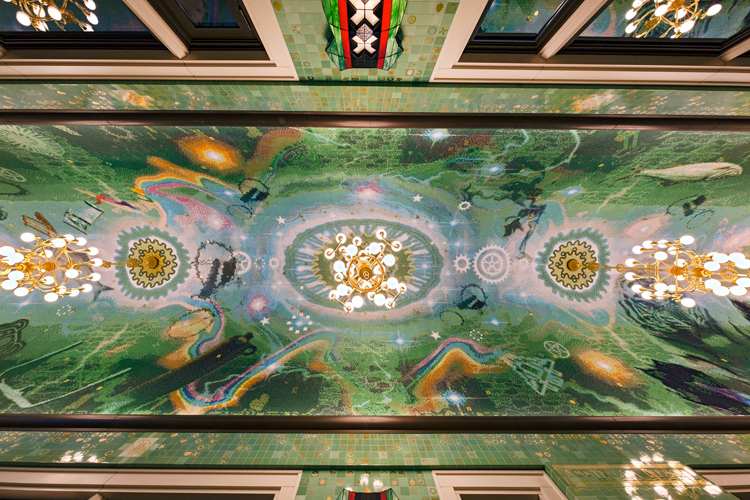 all images © Frank Hanswijk