Architect Carlo Ratti has unveiled the first mass-market robotic bartender for Makr Shakr, the world's leading producer of automated cocktail makers. The new app-controlled machine, called Nino, features two mechanical arms which can precisely prepare and serve any drink in seconds – shaking, stirring and muddling with coordinated, dance-like movements. 
Nino is a major upgrade to Makr Shakr's prior Bionic Bar, which over the last three years has served close to one million cocktails on the most prestigious Royal Caribbean cruise ships, in malls and hotels internationally. Nino aims to show how technology can empower people, ushering in a new drinking experience. Using Makr Shakr's exclusive mobile app, users can either select premade recipes developed by international bartenders or create and name brand-new, customized cocktails of their own. Nino can skillfully manage more than 170 bottles of different spirits hanging from the ceiling of the bar structure, concocting an infinite number of drink combinations.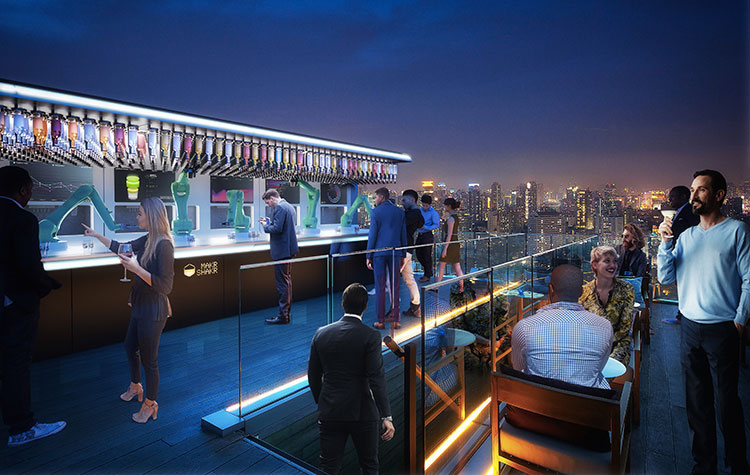 "NINO explores the new dynamics of social creation and consumption – 'design, make, and enjoy' – allowing users to design their own cocktail creations, while digitally controlled machines transform their ideas into reality", says Carlo Ratti, professor of the practices of urban technologies at the Massachusetts Institute of Technology (MIT) and Founder of Makr Shakr: "As robots might transform the workplace in the future, it is important to put them in people's hands".
Nino is a versatile machine that can be personalized and integrated into any existing space. With its modular structure – a base unit of 3x3x3 meters – it can give shape to endless configurations. Furthermore, it can be incorporated within a bar's counter, used in freestanding mode, or installed in any open-air location. Nino features a sleek Corian counter as well as an illuminated wall that displays data about current orders, queue time and usage statistics, providing a visually engaging background. The two robotic arms carry out different tasks:  while the first arm is in charge of complex operations – shaking, stirring, and muddling – the second arm gives its support by pouring drinks. Such technical solution allows to optimize waiting time and also offering a range of alcoholic or non-alcoholic beverages.
Nino can be controlled with an app. From their mobile phones, users have the possibility to name their own recipes, access their order history and reorder their favorite cocktails, while rating, commenting, and sharing each other's creations. They can gain inspiration by viewing other users' recipes and comments before sending in their drink of choice. The app allows people to make their cocktails and safely pay cashless.
Nino is also available in a portable unit which can be rented for temporary events. This lighter version features all the standard technical capabilities, including ice machine, lemon and lime cutter, and mint dispenser.
"Until today, Makr Shakr has been operating with large, expensive machines. That is why we are very excited to present NINO – a compact robot which represents a technological feat on which our mechatronic engineers have been working for more than two years", says Emanuele Rossetti, CEO at Makr Shakr: "In the last few years, Makr Shakr has entertained thousands of people around the world at high-end locations. With NINO, for the first time, this technology is about to enter into our bars and homes."
Launched in 2014, Makr Shakr has subsequently become an independent company, which has been serving close to one million cocktails to thousands of people internationally. The robots' movements were modeled on the gestures of Italian choreographer Marco Pelle from New York Theatre Ballet. Mr. Pelle's movements were filmed and used as inputs in programming the robots' animation. Industrial versions of MS' bars are permanently installed aboard five Royal Caribbean cruise ships, while other editions can be seen in Las Vegas, Nevada and Biloxi, Mississippi.
This summer, Nino will be in action in a series of pop-up events touring around Europe. Furthermore, it will be the main feature of a summer club centered on innovation in Turin, Italy. 
"The city of Turin has always been keen on innovation as well as on the fine food culture, and CRA and Makr Shakr's latest creation couples those two approaches", says Paola Pisano, Deputy major in charge of Innovation and Smart City for Torino city council: "The municipality of Turin is very happy to have NINO as the protagonist of the new summer club dedicated to innovation, which will be open in Turin's Murazzi from mid-June to mid–September".
Nino is available for purchase at a starting price of 99,000 Euros (about $117,000USD).