The Casa ACO project, envisioned by Giuseppe Guerrieri, encompasses the revitalization and expansion of two rustic structures nestled within the picturesque Itria Valley in the Apulian countryside. Adjacent to the plot's entrance, a petite edifice comprising of two arched chambers has been transformed into an annex. The primary structure, comprising of two trulli and several vaulted stables, has undergone meticulous restoration, expansion, and conversion into a splendid residential abode.
The new volume's incorporation introduces a modern dialect that engages in a dialogue with the preexisting structure through contrasting elements and a seamless blend of materials, colors, and geometric patterns. The inflexibility of the existing building's layout is juxtaposed with the adaptability of the spacious room that defines the new addition.
A cut on the roof underlines the interlocking of the old and the new, highlighting how the outer wall of the trullo has been incorporated into the extension. From the outside, through the holes overlooking the gardens, the original architectural components can be read.
A visual axis identified by aligned openings runs transversally through the entire dwelling unit in a promenade from the garden to the living room, continuing through the pens located inside the trulli. The cone-shaped roofs, going beyond the limit height imposed by the project, deny the compositional principles of the work, overhanging the horizon drawn by the building.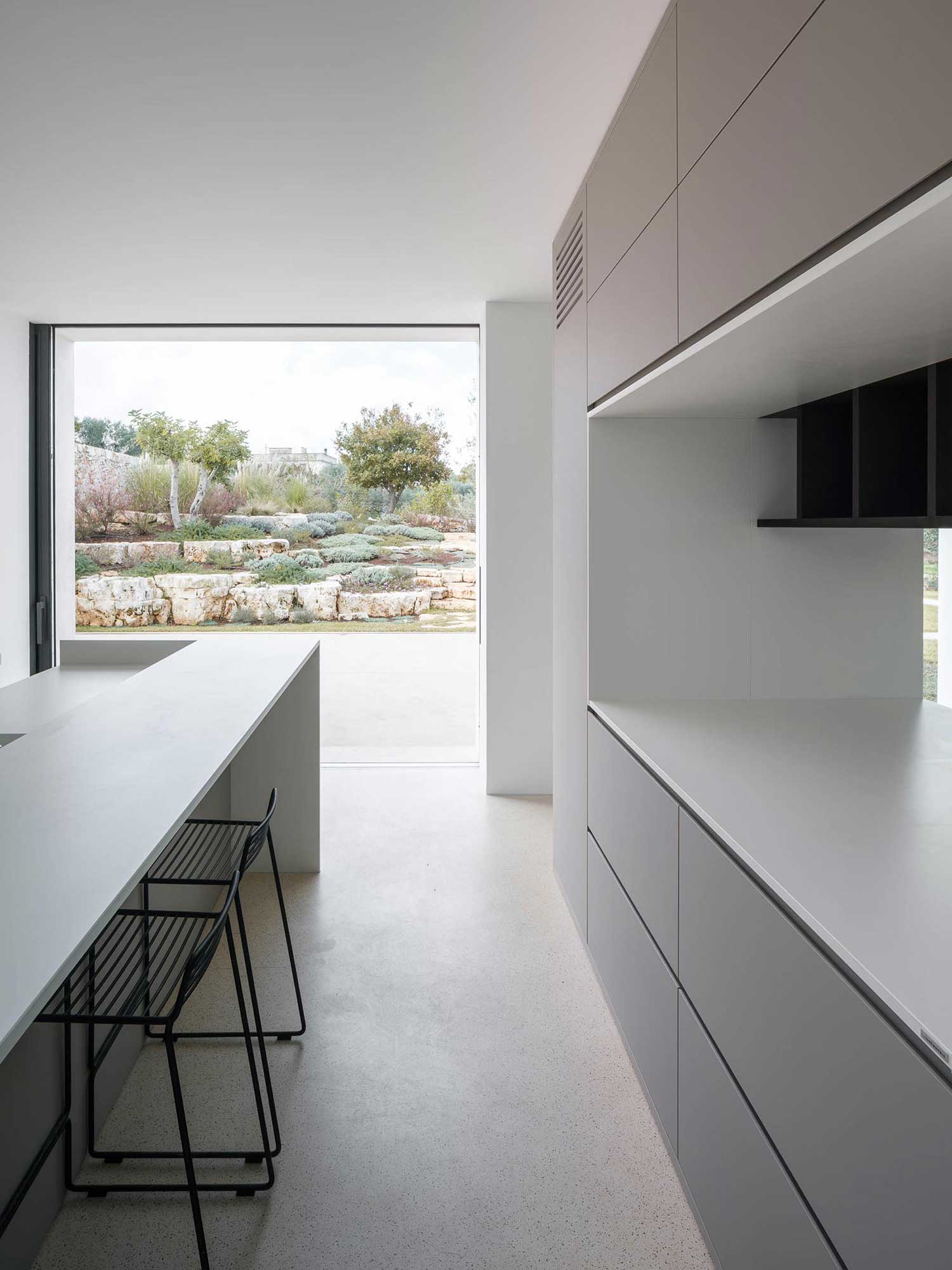 The rational forms and white lime of the buildings are contrasted by a landscape design with organic shapes and varied hues. The retaining walls delimit a canvas within which greenery and paths stitch together and connect the various parts of the building including the swimming pool area.
The latter is placed at a vertex opposite the site entrance, thus delineating a pathway which begins with a view of the annexe, continues towards the trulli and, through the extension, reaches the pool. A path that accompanies the user from a context with a traditional atmosphere towards the progressive discovery of contemporaneity.