Standing at a total height of 528 meters (1,732 feet), CITIC tower has opened as Beijing's tallest building, the fourth tallest in China, and the eighth tallest worldwide. Designed by Kohn Pedersen Fox Associates (KPF),CITIC Tower's design draws inspiration from the "zun", a ritual vessel originating in Bronze Age China. 
In profile, the tower abstracts and refines the zun's vase-like form, balancing composition and articulation with structural requirements and leasing depth needs. In plan, the building is square with rounded corners; its width transforms vertically from its 78-meter-wide base to its 54-meter-wide "waist" to its 69-meter-wide top. Broader at its base than its crown, the tower combines its iconography with infrastructure that supports the building's integrity in China's greatest seismic zone.
These sweeping proportions meet the ground with particular finesse. The lobby's distinct upward curve mirrors the tower's fluted, outward drape in the opposite direction, providing a dramatic backdrop to the pedestrian experience. The interior canopy features bespoke aluminum ribbing that follows its curvature and echoes the tower's elegant façade expression.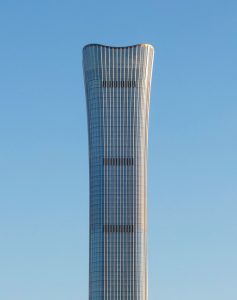 "Imagining the city's tallest tower as a representation of its history and people, we approached the building as a public entity in our design," explains Robert Whitlock, Design Principal. "The curtain wall, a light and delicate layer, folds out at the base and signals the building's various entry points. It appears to float above the ground plane, evoking the human scale and activity that occurs at its base and ultimately promoting public engagement with the architecture and the district on a whole. This synchrony of tower and landscape, coupled with its simple, sculptural form, define CITIC Tower."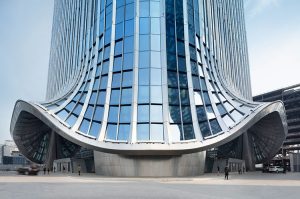 There are close to 20 tall buildings in the Beijing Central Business Disctrict, which features a linear public park, underground lobby, and parking facilities that run through its core. CITIC Tower anchors the northern end of this highly dense region, forming an iconic backdrop to the park and a prominent new destination for visitors. The tower also connects to a vast underground transportation network, linking together a pedestrian passageway system, a B2-level roadway, and four subway lines across three stations.
Li Lei, Design Director, reflects on the project's design challenges: "KPF's goal for CITIC Tower was to create a centerpiece for the new CBD that would elicit harmony with the historic capital while proposing aspirational and contemporary architecture. We abstracted the zun's elegant form and focused on its gradual transformation, applying this motif across immense scales: from the tower's overall massing, all the way down to its curtain wall, entry vestibule, and interior detailing. In all, we feel that CITIC Tower's graceful skyline profile, dynamic street level presence, and transparent lobby and observation hall answer its architectural mission."
CITIC Tower contains the headquarters for CITIC Group and CITIC Bank, as well as tenant-occupied office spaces and a multipurpose business center. TFP Farrells submitted the original land bid concept, after which KPF crafted a unique design solution informed by the studio's robust high-rise experience and thoughtful interpretation of ancient Chinese art.