Building a home powered by renewable energy is not just an idea of the future – it's a reality that can be achieved today. Going solar for your new or existing home is one of the most effective ways to reduce your carbon footprint and benefit from clean, affordable, and reliable energy. When considering installing solar panels, there are many crucial factors to take into account in order to maximize efficiency and long-term savings. In this blog post, we'll explore 6 important tips for building a successful solar-powered home. From understanding which components will best suit your space to monitoring system performance over time, you'll know how to achieve lasting success with this sustainable approach to powering your residence.
Choose the right location for your solar-powered home 
Choosing the right location for your solar-powered home is crucial to ensure maximum sunlight exposure. The first step is to evaluate the orientation of your prospective property to determine the direction of the sun's path throughout the day. Ideally, you want your solar panels to face south to capture the most sunlight possible. It's also important to take surrounding obstacles, such as trees or buildings, into consideration, as they can cast shadows and block sunlight. Additionally, you should consider the climate and weather patterns in your area to determine the ideal positioning of your solar panels. By carefully selecting the right location, you can optimize the efficiency of your solar-powered home and reap the benefits of sustainable living.
Select a roof design that will accommodate the installation
With the increasing emphasis on clean energy, more and more people are turning to solar panels as a way to power their homes. However, installing solar panels on your roof requires careful consideration of the roof design. The type of roof you have can affect how well your solar panels work and how easily they can be installed. Ideally, you want a roof that is flat or has a gentle slope, unobstructed by trees or other buildings, and facing in a southerly direction. A roof design that allows for easy installation of solar panels is not just practical, it can also save you money in the long run by reducing your energy costs.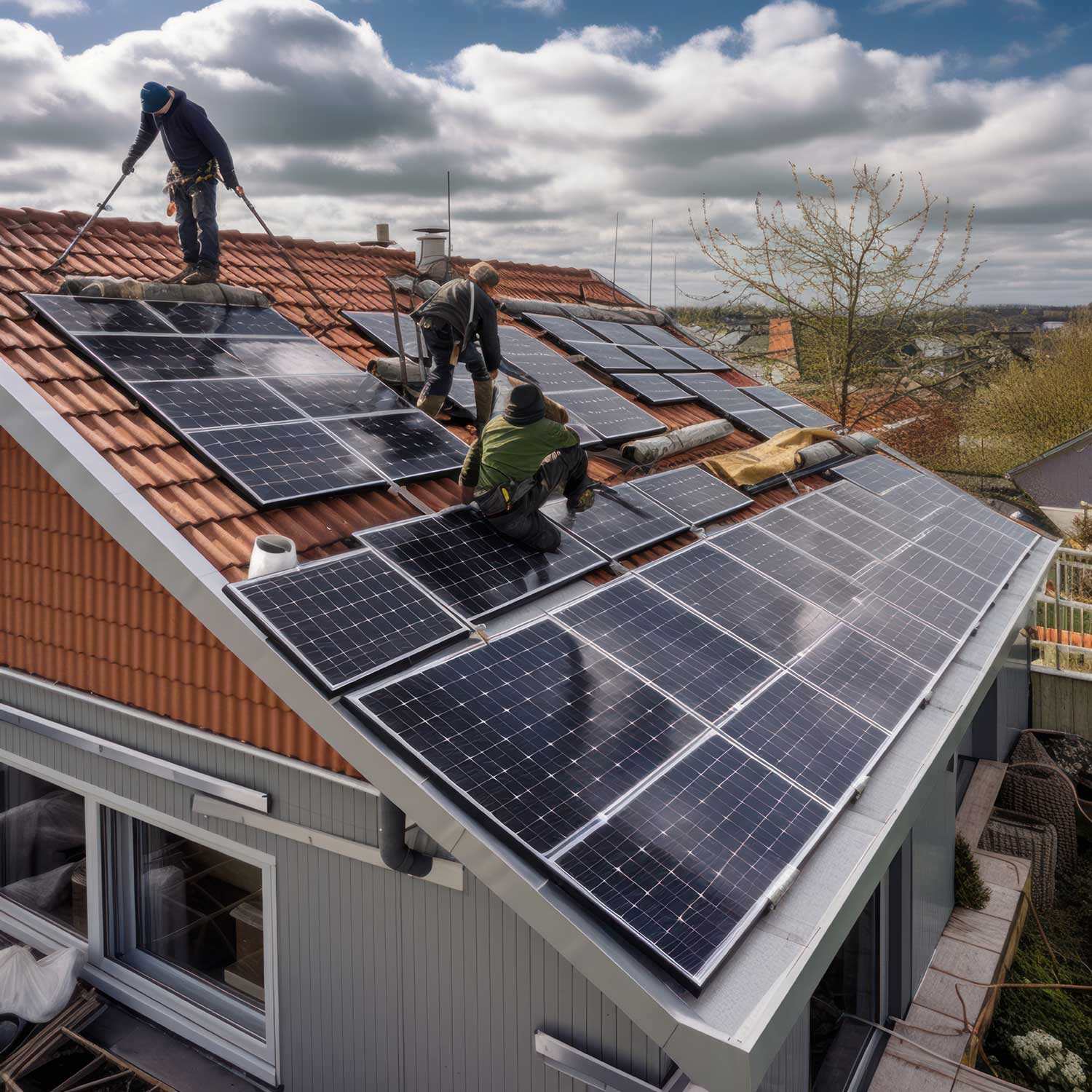 Finding the best solar & electrical contractor
When building a solar-powered home, finding a reliable and experienced solar and electrical contractor is crucial. But, in case you are currently building a solar-powered home in western Washington, you should consider a solar panels contractor in Seattle, and help yourself on this journey. These contractors should have the expertise to design, install and maintain the entire solar power system in your home. This includes solar panels, batteries, inverters, and other electrical components. Hiring a solar and electrical contractor ensures that the installation process is carried out safely and efficiently. They have the necessary knowledge and experience to deal with any challenges that may arise during the installation process. They also ensure that the system runs as efficiently as possible, reducing long-term maintenance costs.
Calculate the amount of power you'll need 
When it comes to converting to solar energy, one of the biggest concerns is determining the amount of power needed and whether a single set of solar panels can provide it. Fortunately, with advancements in solar technology, it is now easier than ever to calculate the amount of power required for your home or business. By taking into account factors such as your location, energy usage, and the size and efficiency of your solar panels, you can determine if a single set of panels will be enough to meet your energy needs. 
Consider other energy-saving features
As we become increasingly aware of the impact we have on the environment, energy conservation has become a hot topic. There are many ways to reduce our energy consumption, including using LED lighting, energy-efficient appliances, and low-flow plumbing fixtures. LED lighting not only consumes less energy but also has a longer lifespan compared to traditional lighting sources. Energy-efficient appliances can save homeowners hundreds of dollars on energy bills each year.
Invest in a battery and backup system
As we become more reliant on technology and electricity, it's important to have a backup plan in the event of a power outage or cloudy days. This is where investing in a battery and backup system can provide peace of mind. Not only will it keep critical appliances and devices running during a blackout, but it can also store energy during sunny days to use when it's cloudy. Investment in a reliable backup system can save you from inconvenience and stress when the unexpected happens. 
The potential financial and environmental benefits of installing solar panels are undeniable. With the right combination of research, location, design, and calculations, you can create a solar-powered home that not only lowers your energy costs but also helps reduce your carbon footprint. It's worth taking the time to research local solar and electrical contractors for installing solar panels, choosing the ideal location for your property, selecting an appropriate roof design, and calculating the amount of power you need. Ultimately, with some dedication and care, you can facilitate a switch to a renewable energy powered by the sun–all while saving yourself significant amounts of money along the way.