CopenHill, also known as Amager Bakke, has opens as a new breed of waste-to-energy plant topped with a ski slope, hiking trail and climbing wall, embodying the notion of hedonistic sustainability while aligning with Copenhagen's goal of becoming the world's first carbon-neutral city by 2025. CopenHill is a 41,000m2 waste-to-energy plant designed designed by BIG – Bjarke Ingels Group and landscape architecture firm SLA, featuring an urban recreation center and environmental education hub, turning social infrastructure into an architectural landmark.
CopenHill is conceived as a public infrastructure with intended social side-effects from day one. Replacing the adjacent 50-year old waste-to-energy plant with Amager Ressourcecenter (ARC), CopenHill's new waste incinerating facilities integrate the latest technologies in waste treatment and energy production. Due to its location on the industrial waterfront of Amager, where raw industrial facilities have become the site for extreme sports from wakeboarding to go-kart racing, the new power plant adds skiing, hiking and rock climbing to thrill-seekers' wish lists.
The internal volumes of the power plant are determined by the precise positioning and organization of its machinery in height order, creating an efficient, sloping rooftop fit for a 9,000m2 ski terrain. At the top, experts can glide down the artificial ski slope with the same length as an Olympic half-pipe, test the freestyle park or try the timed slalom course, while beginners and kids practice on the lower slopes. Skiers ascend the park from the platter lift, carpet lifts or glass elevator for a glimpse inside the 24-hour operations of a waste incinerator.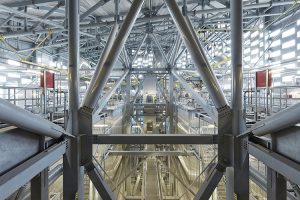 For visitors who aren't taking to the slopes, other on-site facilities include a rooftop bar, a cross-fit area, and a climbing wall. The project also includes the highest viewing plateau in the city and a tree-lined hiking and running trail designed by SLA. This green roof also helps create a biodiverse landscape that simultaneously absorbs heat, removes air particulates, and minimizes stormwater runoff.