Starting with a derelict cabin among the Czech mountainous, Mjölk Architekti has designed its Cottage Pod Bukovou. The original face of the unfinished cottage from the eighties has changed beyond recognition. The gray brizolite was replaced by black wood paneling, which the owners tanned themselves. The wood also extends to the roof areas and the main house, even with a small cottage, looks very abstract. Terms such as roof, wall or chimney merge into a single shape. Some of the windows cut the facade cladding into a round shape. The house looks like an overgrown birdhouse. The tiny dwelling stands together with a sauna, itself finished with blackened vertical wood panels.
The cottage is cozy. The flames of the fire lick the glass in the large fireplace, the wood cracks and pillows of white Jizera mist roll over the windows. Tufts of water vapor sweep the valley and above them white spots of slopes on Špičák. The worst weather here can actually be the best.
The interior is simple and functional. The original layout has changed. The original living space remained in place, but the sleeping layout changed. There are now two bedrooms in the house. One is large, accessible by secret stairs in the closet. The second, slightly smaller, is accessible by a ladder from the kitchen. Opposite the fireplace is an invention called the "sleeping window", where an unexpected visitor sleeps comfortably.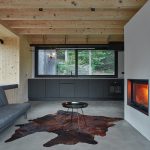 Image courtesy of www.boysplaynice.com