In this age where virtual sex is taking over from physical sex and the body is an object of ever more manipulation and excess, Milanese designer Alberto Biagetti and artist Laura Baldassari have created NO SEX, a pink-clinic designed to re- establish the individual's inner equilibrium regarding sex, in a transcendental and futuristic paradise of liberty and of clean, fresh unprejudiced equality.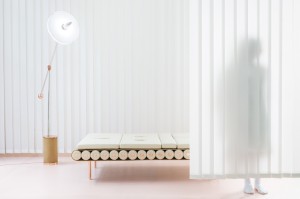 This year Biagetti and Baldassari take their dissection of contemporary obsessions one step further – if last year's BODY BUILDING project was Volume I, then NO SEX is Volume II of their chronicles. This time the creative duo, partners in work and life, addresses and penetrates the subject of the body, going even deeper into the human psyche. The two designers are storytellers, modern-day bards, but the language they use cannot be written or sung, it is the language of 3d objects. With this, they interpret and express the reality they perceive and, in this case, strip down and expose our relationship with that traditionally taboo subject of sex.
As the saying goes "sex sells", so sex is everywhere. It is thrust upon us, before our eyes, in our ears and on our minds. It is on our streets with ad campaigns and billboards and is available on demand on the T.V. or internet – anyone from a teenage schoolgirl to a President of the Republic can saturate their senses at the touch of a 4 inch screen. Sex in itself has rules – to be obeyed or broken. It is an act and the propaganda that revolves around it, to encourage it, warn against it, tell you how to do it…Have you done it? Do you do it? Did you do it? Don't you do it…? For some, or even for many, sex is an issue.
With this in mind the duo created the NO SEX exhibition as "a sort of innocent pleasure house or even a happy clinic" where people might go to receive treatments or cures to reestablish their sexual equilibrium.
NO SEX is on show at Piazza Arcola 4, Milan during Milan Design Week 2016, which runs from 12 April to 17 April.
images by Delfino Sisto Legnani and Marco Cappelletti | courtesy of Atelier Biagetti
Comments
comments