On July 16, 1969, NASA launched Apollo 11 to the Moon. 50 years after this monumental achievement, Studio Drift will commemorate this historical moment with a special performance. A one-time-only custom edition of Franchise Freedom, previously taking flight in the skies of Amsterdam, Miami, and the 'Playa' at Burning Man, 'franchise freedom'the flying sculpture of 300 Intel Shooting Star drones by Studio Drift, will lift off at NASA's Rocket Garden at the Kennedy Space Center Visitor Complex with a live music performance by Duran Duran on July 16.
The Franchise Freedom performance marks a tribute to iconic shifts in technology, bac then and now, that positively impact the evolution of humankind.
"The moon landing made us think about our lives here on earth more than life on the moon," says Lonneke Gordijn, Artist Drift. " That's what our work Franchise Freedom is about, human behaviour on earth."
NASA's historic moon landing changed the perspectives in our role within the universe. Franchise Freedom inspires the same by merging technology with nature. It's the connection with humanity. Whether we're exploring the moon, the sky or anywhere else it all ends up being about improving life here on earth.
"The Apollo 11 moon landing exemplifies how technology can have a positive effect on humanity. Let's take this as an example of what amazing possibilities we have if we put our minds together. It is our responsibility to use technology to build a sustainable future," says Ralph Nauta, Artist Drift. (above Franchise Freedom in Amsterdam – image © Ossip van Duivenbode)
"We're honored to partner with Studio Drift to bring Intel drone technology to not only an amazing performance by Duran Duran, but to this celebration of such a momentous and iconic moment in human history," said Natalie Cheung, general manager of Drone Light Shows at Intel.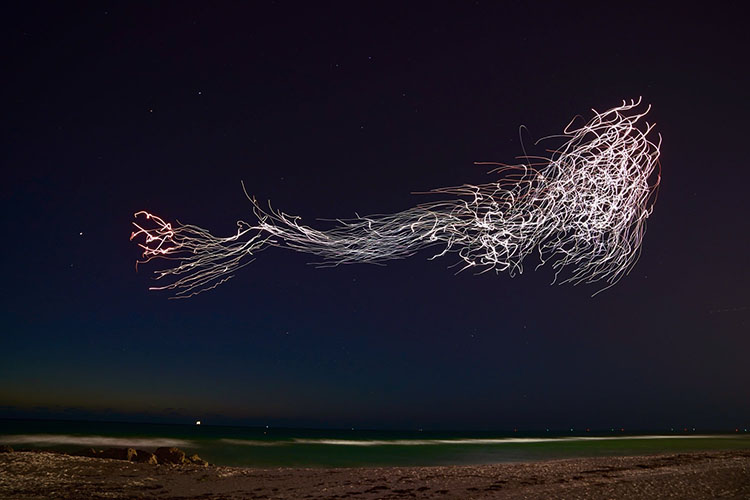 To create Franchise Freedom, Studio Drift studied the natural flight patterns of starlings and translated them into software that has been specially developed and embedded in the drones. (above Franchise Freedom at Art Basel Miami Beach 2017 – image © James Harris)
This research started in 2007 with the launch of our work Flylight, whereby non pre-programmed flight patterns are generated by an algorithm that reacts in ways similar to starling murmuration. Together with their unique movements, light plays an equally important role in Franchise Freedom. Each drone has a light source, and its intensity and color is influenced by the distance between it and other drones, emphasizing the density of the group.