Taiwanese company Gogoro has unveiled the world's first high-performance, zero emissions, two-wheeled electric vehicle, the Gogoro Smartscooter. The company also announced the Gogoro Energy Network, a battery swapping infrastructure that could allow its power cells to be changed in just six seconds.
From the drivetrain to the dashboard, the Smartscooter utilizes the precision, processes and materials used for supercars to offer top-level performance that is both user-friendly and accessible to the mass market. In order to deliver unprecedented power, agility, acceleration and handling, Gogoro reimagined the entire ride experience and then created a unique powertrain, chassis, suspension and electronics to deliver the best efficiency, handling, acceleration and riding range possible.
The Smartscooter harnesses the power of 30 onboard sensors, cloud connectivity, and an integrated Gogoro mobile application that enables the scooter to get smarter and more efficient with every ride. The Gogoro iQ System puts the power of a personal computer in the Smartscooter, synchronizing wirelessly across the Smartscooter, Gogoro app, Gogoro Battery, GoStation and Gogoro Energy Network. The app utilizes the Gogoro iQ System to find the closest GoStation, deliver detailed scooter diagnostics, adaptive throttle control, customized regenerative braking, and the ability to track ride details like the top speed and range so the rider can analyze riding patterns to optimize power and energy consumption.
Riders don't need to wait to refuel or recharge the Smartscooter. When a depleted battery needs to be swapped with a charged one, riders can make a six-second swap at any GoStation. Batteries can be reserved in advance, and a subscription-based payment model offers unlimited access to as many charged batteries as needed. Also, with Smartscooter's hyper-connectivity, if vehicle servicing is needed, the rider is immediately alerted via the Gogoro mobile app or at the GoStation when swapping batteries.
The Gogoro Energy Network is a modular battery-swapping infrastructure that can be deployed across a city to provide broad consumer access to portable power through battery vending machines called GoStations. The Gogoro Battery is an engineering breakthrough with a variety of technologies including 25 sensors, near field communication (NFC) connectivity and 256-bit security encryption. It utilizes Panasonic's industry-leading cylindrical 18650-size automotive-grade lithium-ion energy cells to deliver the ultimate in safety, performance, efficiency and portability.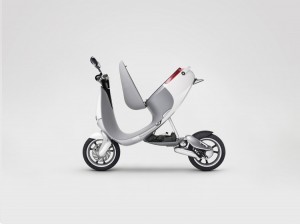 all images and video courtesy of GOGORO