Multidisciplinary design studio Lim + Lu has recently refurbished a traditional 3-bedroom apartment in an aged residential building in Hong Kong. The main idea was to free up the space all the while maintaining the option for privacy. Equipping the space with suspended glass and black powder coated stainless steel sliding doors, Lim+Lu has created a flexible and adaptive living environment that better reflects the transient lifestyle today.
Before to the renovation, the interior had dotted characteristics typical to a Hong Kong apartment; a long and narrow corridor void of light which serviced three bedrooms and distinctly demarcated spaces for the kitchen and living room, all in a tired and muted color tone.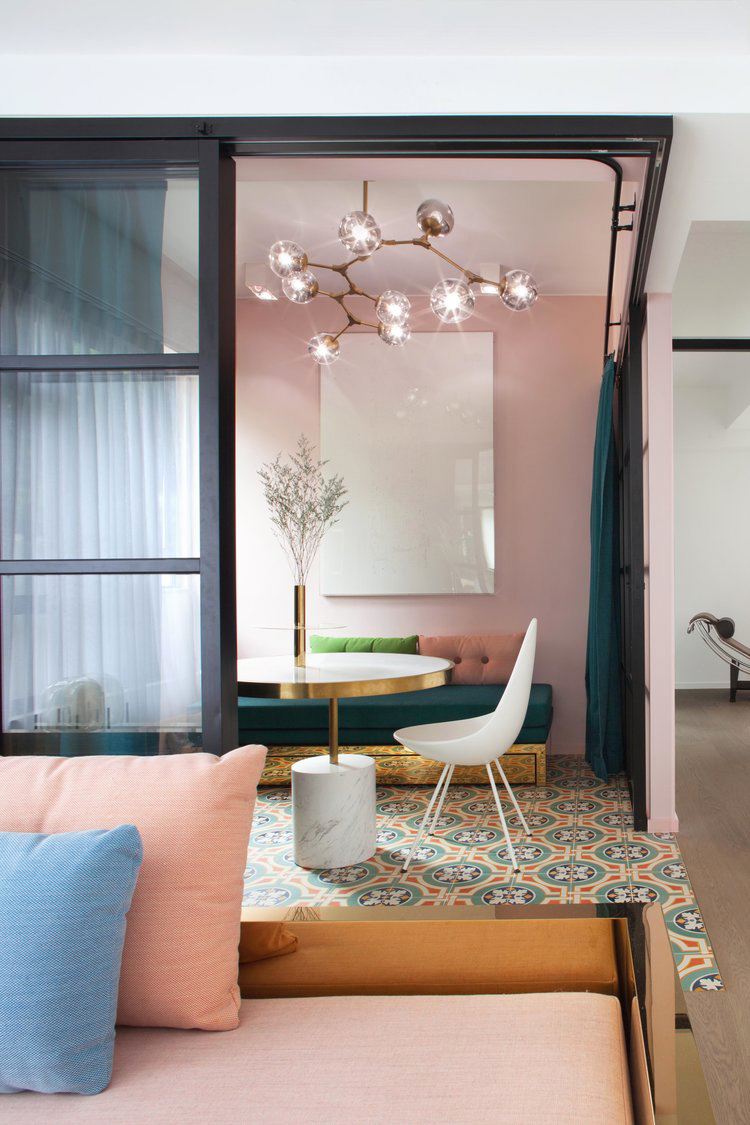 Lim+Lu's apartment transformation alludes to a flexible living environment that reflects the versatility of modern day living. Simply by way of removing and restructuring certain walls in the space, the resulting interior is designed to appear more expansive. The core living space composed of the living room and the bedroom are unified by the continuous warm oak flooring which also blurs the boundary between the public spaces and the private spaces in a home. The narrow corridor was demolished in favor of the new master bedroom. The architects also converted the bedroom adjacent to the main living area into a flexible space with suspended sliding doors. This shape-shifting room is adorned with a striking jade green drapery that allows the option of being an extension to the living room space or enclosed as a guest bedroom.
The duo deliberately chose colors that would inject fresh life into the space. The walls of the living room and bedroom are painted white with black accents, signifying spaces of rest and relaxation. Meanwhile, the kitchen, study, walk-in closet and master bathroom are all host to rich pastels and dark hues, tastefully combined with patterned ceramic tiles to juxtapose the core living space with the extensions. The thresholds created by the subtle distinctions of color, texture and material maintain a fluidity to allow the space to still blend effortlessly together as one.
all images © Nirut Benjabanpot