Designed by Shanwei Weng and Jiadie Yuan, founders of AN Design, the Heike fashion concept store is hidden on the second floor of a furniture store in Hangzhou, China. A narrow staircase in the middle of the store leads to Heike.
The crossing of the space between the two levels, the stairway, is simultaneously concealed and enhanced by a sculptural black block. Named the 'Black Cant', this large slanted wedge separates by connecting and incorporates the passage from the ground to the first floor. It also includes the container for the fitting room and stock areas.
The dark and invasive volume is inserted by the architects as a 'text' on a blank page and serves as a store and a gallery for exhibitions and events.
Heike is achieved with geometric, cutting shapes, minimal furnishing and a varied range of materials such as concrete, steel, aluminum and mirrors. Different textures were used to create matt and shiny surfaces, all of them in strictly gray and black shades, eloquent signs of craftsmanship. Other examples is the raw concrete construction, contrasting with the polished floors, the steel window structures, the hangers, the intensely black marble dust finish and the polished metals.
The Heike concept fashion store has been awarded the World Interior of the Year prize at Inside 2016, as "it calls into question the conventional idea of a fashion retail store."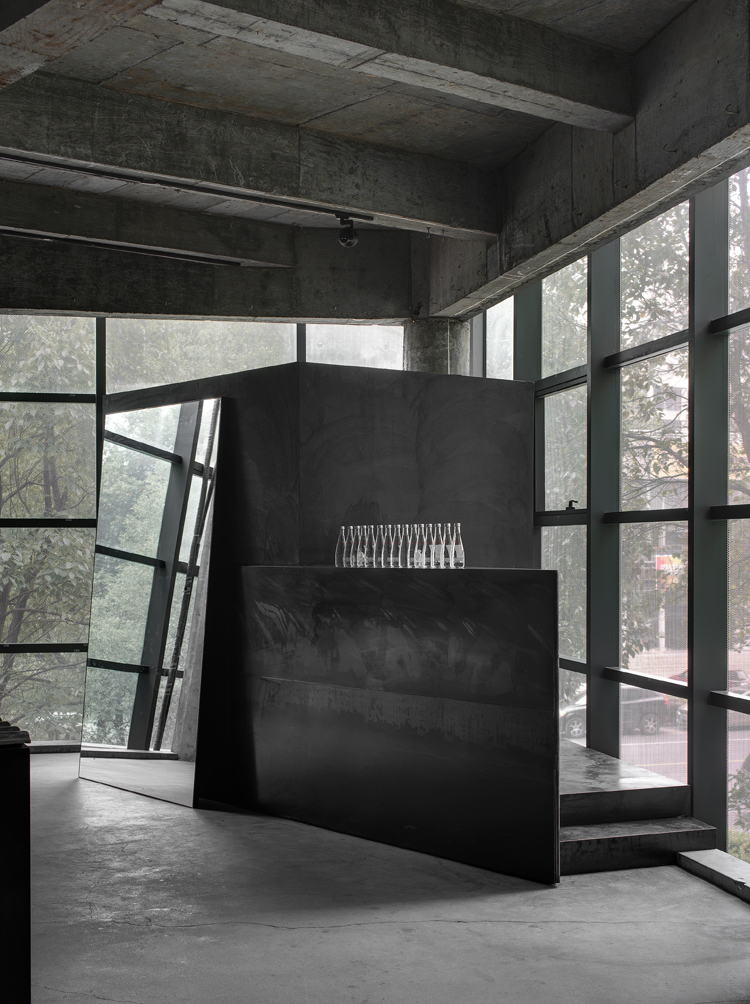 all images © Yujie Liu